You're in the market for a Ruger LCP pocket holster. There are so many on the market, so you are probably curious as to what is the best pocket holster for your pistol. A pocket holster is one designed to slip inside your pocket, without resorting to belt clips or slots.
Our pick for the best pocket holster is the Combination Pocket/IWB CC3 Holster by Don't Tread on Me Conceal and Carry Holsters. This is a nylon pocket holster with a removable metal clip that doubles as a more secure inside the waistband (IWB) holster. The holster is molded to fit specific firearms, and is padded to reduce the pistol's profile when worn in a pocket.
Get Great Guns and Ammo Deals!
---
What to Think About Before Buying
There are several things to keep in mind before buying a pocket holster.
Your Wardrobe: if you wear pants or shorts with small pockets, keep in mind a pocket holster may not fit. Especially in women's jeans; their pockets are almost always tiny.
Material: material may vary between nylon and leather, so your pick will depend on which you prefer. Nylon is easily cleaned, but not as long lasting as leather.
Dominant Hand: most holsters are not ambidextrous, meaning you'll have to get the correct right- or left-handed model. But, many of the pocket holsters are generic to side.
Most importantly, keep in mind your state and city's regulations on concealed carry. These laws vary state to state and in city limits, and what's allowed in your area may not be if you cross the border.
---
What's a Pocket Holster?
Pocket Holsters can be made of nylon or leather. Usually, they're squarish in shape to help break up the outline of the pistol in your pocket (called 'printing'). Some are designed to look like a wallet when worn in the back pocket.
Some pocket holsters come with a belt clip to attach the holster to your pants pocket. Others rely on the friction between the holster and pocket to secure them. There are even some models that double as an inside the waistband (IWB) holster.
Often, pocket holsters are somewhat molded to the shape of specific firearms, so use caution when ordering to guarantee you get the right one. Many are ambidextrous, meaning they can be used for both right- and left-handed shooters.
Pocket holsters will not come with retaining straps or any passive retention features.
Some Terminology
There are a few unfamiliar terms you may come across when searching for a pocket holster.
'Printing' refers to the outline of a concealed carry pistol or holster. A gun that prints is still visible even when in a pocket or under a shirt. For concealed carry, you'll want to find a holster that reduces printing, which can make your pistol look like a cell phone or a wallet instead.
IWB stands for 'inside the waistband' and refers to holsters worn tucked into the pants.
---
Specific Pocket Holsters For Ruger LCP 
Let's get right down to it and talk about some specific holster models.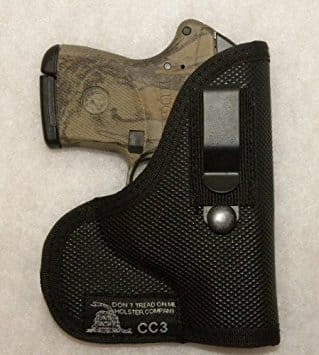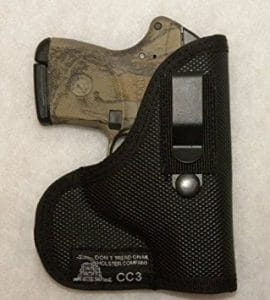 This is an easy-to-use combination pocket/inside the waistband (IWB) holster made of nylon. It comes with a removable metal clip that converts it to an IWB concealed carry holster. Its square shape smooths the pistol's lines, reducing 'printing'.
The inside of the holster is padded for a smooth draw and to protect the pistol's finish. This padding also helps to reduce printing. There's heavy stitching around the trigger guard, ensuring the firearm stays in place, ready for a quick draw.
The CC3 holster comes with two metal clips of different lengths, so you can adjust how deep in the pocket or waistband to carry it. This holster is now available in both right- and left-hand models, so use caution when ordering. Another model, the CC5, is suitable for handguns with Crimson Trace lasers installed.
This is a nylon holster without any clip intended for pocket use or inside the waistband (IWB) carry. When worn in the pants, it uses friction between your body and the pants to keep it in place. However, keep in mind it does not attach to the pants, so use caution when dropping your drawers.
The M44 will fit your Ruger even with the Crimson Trace laser installed. It comes with an outer flap to further reduce 'printing'. This flap is removable and reversible. The holster remains open when empty, aiding in reholstering.
This M44 holster will not work with the Ruger LCP Custom model, but the DeSantis Nemesis model is suitable for the Custom.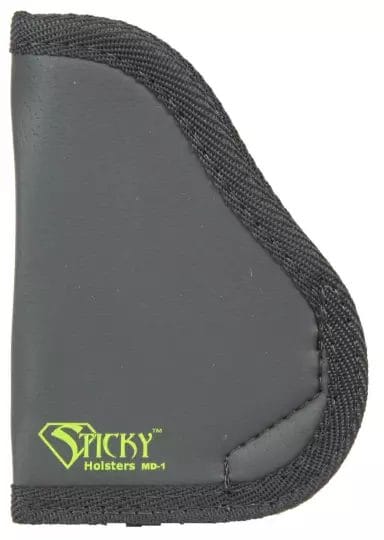 This is a lightweight nylon holster with a sticky outer surface. It's got heavy stitching around the trigger guard so the pistol doesn't insert too deeply to draw. The holster uses friction to keep it in place when drawing.
The SM-2 is designed for the Ruger LCP without laser sights, but Sticky Holsters offers the SM-3 which is suitable for the LCP with trigger-mounted lasers. This holster weighs in under 3 ounces, and is possibly the lightest holster on the market.
The Pocket Holster by UTG is a slim nylon holster that is ambidextrous. It features non-slip bands around the holster to hold it in your pocket. It also has a small pocket for carrying your license or some cash. There is no belt clip with this holster.
Because it's generic for many different firearms, this holster isn't molded or stitched around the trigger guard. Some handguns may insert too deeply into the holster, reducing draw time. But, it's shape reduces the amount of 'printing' from the pistol.
The top is designed to remain open, allowing for easy holstering.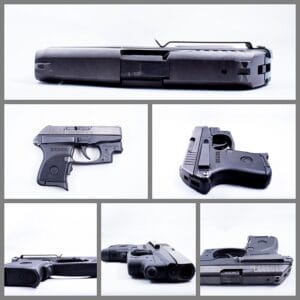 This isn't a holster at all; rather, it's a clip that attaches semi-permanently to your pistol's frame under the back of the slide. This allows you to clip the firearm to the bottom of your pocket just like you would a small pocket knife.
There is no holster to add bulk, but that means there's nothing to help break up the 'printing' of the firearm. It comes with a screw, and you attach it to the grip by removing a pin. Keep the pin around in case you want to remove the clip.
Because of the slim profile of this clip, you can still use your Ruger LCP in another holster, without removing the clip. It's great for use when you're wearing clothing that doesn't have a pocket since you can clip it to the waistband.
---
Final Comments
A pocket holster is a great way to carry your Ruger LCP concealed. Many pocket holsters can also double as inside the waistband (IWB) holsters. Again, make sure you follow your state and city's requirements for carrying concealed weapons.
The Combination Pocket Holster by Don't Tread on Me is the best pocket holster for the price. It comes with clips of two different lengths that are easily changeable. You can wear it with or without the clip, inside the pocket or clipped to the waistband. Best of all, Don't Tread on Me makes a model of this holster suitable for the Ruger LCP with Crimson Trace laser sights.
Related Reads: