The 1911 pistol has been in use since its invention by John Moses Browning in the year that became the pistol's namesake. This type of pistol is known for its short recoil operation and telltale grip safety. Many of these weapons have been developed by different gun brands over the years, which clearly illustrates the quality of the weapon itself.
The 1911 is a somewhat controversial firearm that has scores of fans and detractors, but as with any firearm, you should have a good holster. These days, synthetic holsters are gaining a lot of fans, and Kydex is becoming an increasingly popular material. With this in mind, we've created this guide of the top Kydex 1911 holsters on the market.
Get Great Guns and Ammo Deals!
---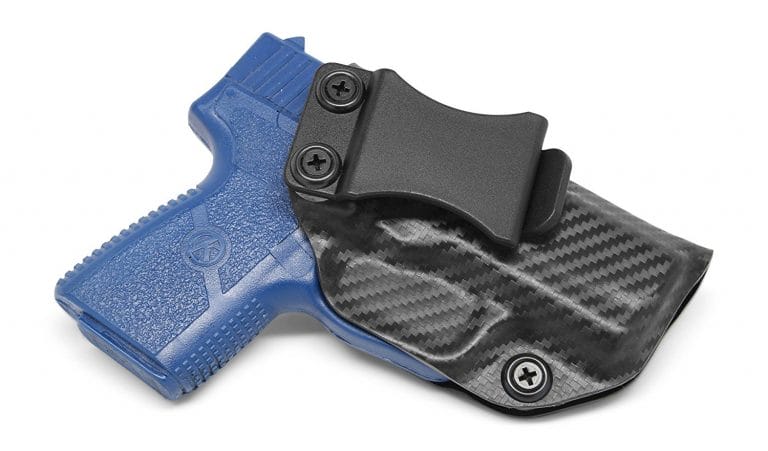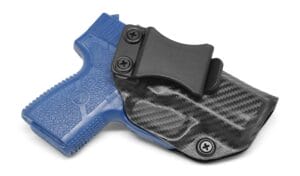 We've tested more than 50 different Kydex holsters for 1911 pistols and out of these products, we found that the Concealment Express IWB KYDEX Adjustable Carry Holster did the best job of providing a well-rounded shooting experience. It has all of the features that a concealed carrier might want like trigger protection, a sturdy body, and a concealing form factor.
The first thing that you might notice about this holster is its "carbon fiber" design. While this is a faux carbon fiber, it looks very attractive in everyday use. Additionally, the material on this gun holster is capable of taking a lot of abuse thanks to the .08-inch thick Kydex.
Pros
Inside the waistband holsters should be moisture-proof; this product is perfectly capable of withstanding the sometimes sweaty situations that come with an IWB holster.
Some shooters prefer their holster to have a "click" retention. This product clicks audibly into place so that you know that it's firmly seated.
You can adjust the cant of this particular holster, which is good for carriers that prefer a different draw angle.
To adjust the retention using the Posi-Click system, you simply need a Phillips head screwdriver.
Concealment Express are the masters of Kydex; in fact, it's the only material they use.
Cons
Unfortunately, the clip could be better. If you're not careful, the whole holster can come up with the gun.
The "carbon fiber" design is just an aesthetic feature and has a tendency to grate off of the holster over time.
---
Why Pick a 1911 Kydex Holster?
So why not just select a leather or nylon holster? What makes Kydex so good of a holster material? To understand this, let's take a look at the synthetic material itself.
Believe it or not, Kydex has been around for more than 50 years; it was invented in 1965 and was primarily used for aircraft interiors. It is a rigid and strong material that has a good degree of formability, which is why it's such a good material for crafting holsters.
Also, while having a strong and durable construction, Kydex is also a very lightweight material. This makes it an exceptional choice for crafting in and out of waistband holsters.
Additionally, Kydex holsters, as hard-form holsters, have some great built-in firearm retention. In fact, many of the modern Kydex holsters will audibly click once you've gotten the gun seated properly. This provides a degree of reliability that many gun owners will appreciate.
Amazingly, there are even ways for industrious gun owners to even manufacture their own Kydex holsters. While this might be attractive for some, you can find some great Kydex holsters on the market for relatively inexpensive prices.
Some Additional Benefits of Kydex
Easy Maintenance: One of the coolest features of Kydex is how easily it is cleaned and maintained. The material is virtually pore-free, so you won't have to worry about the thermoplastic being stained; simply dab it with a wet cloth and most debris should come right off.
There's No Break-In Period: Leather holsters are very popular, but even the most die-hard leather holster fan will tell you that the first few weeks are toughest with a leather holster because of the break-in period. Kydex is usable right out of the box and will keep its retention for a long period of time.
They Are Moisture-Resistant: Moisture can wreck a gun and the holster that's carrying it. Since many Kydex holsters are designed to be in the waistband, it's good that Kydex is a very moisture resistant material. Some Kydex holsters even employ a moisture guard for added protection.
---
Some Things to Watch out for With Kydex
False Kydex: It's easy to get fooled by holster manufacturer's claiming that their synthetic plastic holsters are actually Kydex. Kydex is a thermoplastic acrylic-polyvinyl chloride material that looks a lot like standard plastic, which is why unscrupulous holster sellers may try to hoodwink you.
Gun Wear:: You'll often hear about this with both Kydex and Boltaron holsters, but the truth is, just about any holster can damage the finish of your firearm. To avoid this type of damage, you should aim for Kydex holsters that conform to the shape of your weapon and use retention points on the gun for a secure fit.
Material Variances: Unfortunately, all Kydex holsters aren't built the same. The truth of the matter is the Kydex manufacturers actually have several different grades of the material that range all the way up to the top-of-the-line Kydex 100.
The holsters using the higher-grade Kydex materials will consequently cost more because the manufacturing process will be more complex and use better components. In fact, there are more than 40 different lines of Kydex, so before you buy, it doesn't hurt to contact the manufacturer and ask about the specific production process for their Kydex holsters.
The Truth About Guns has an excellent write up about Kydex holsters that delves into the benefits and drawbacks of the material.
---
Alternative 1911 Kydex Holster Reviews
Our first alternative pick has a very unique design that has a grated paddle that also has a belt loop. Out of the holsters that we'll be featuring here, this is one of the most adjustable.
Pros
The leading edge of the holster is left open-ended. This allows for the weapon to be more easily drawn when the need arises.
The paddle isn't the only means of attaching this holster; you can also connect a belt loop attachment by way of the adjustable screws.
Another adjustable feature with this Kydex holster is its retention. Simply using a Phillips screwdriver will allow you to increase or decrease the retention to your preference.
The cant is adjustable as well for drawing convenience.
Torso length is a major factor when you want to draw naturally; this is also fully adjustable via screws.
Cons
While this holster rides close to the hip and has a relatively flat form factor, it can also feel a bit bulky.
The teeth on the paddle clip can actually damage pants over time.
This is a holster that can cause slight finish damage to your 1911 if you aren't careful.
This Blade Tech Industries holster is an inside the waistband (IWB) product that has a relatively unique design. This is a fully clip-less holster; you attach it to your belt via adjustable loops when you need to conceal it.
Pros
This is a relatively thin and lightweight Kydex holster.
It employs a sweat shield to protect your 1911 from the damage that oil and moisture can cause.
The belt loops have several points of adjustment so that you can always have a secure connection that won't jiggle when you move.
This is a very comfortable to use holster.
The holster also does a good job of minimizing the imprint of your 1911, which is crucial for concealment.
Cons
The Kydex for this holster is somewhat thin. While it's still a sturdy holster, this might be a turnoff for those who want a thicker build quality.
If you squeeze the holster while placing your gun inside, it can contact the trigger.
This holster may not block the hammer of your 1911 from contacting with your body, which can be uncomfortable.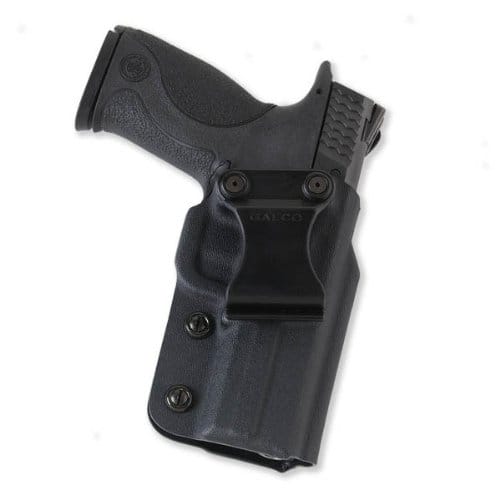 This is a nice, custom-molded holster that is designed to not take up much space at your hip. Like the previous holster, this product has an open muzzle end.
Pros
This is a good holster for warmer weather because of its sweat guard that covers a fairly wide area.
With such a small footprint, you shouldn't have any problem freely drawing with this Triton holster. In fact, this product even features a completely open top.
It has a built-in 10-degree cant, which is useful for those who like to draw from the "FBI cant."
The clip on the side of the holster is fairly secure so that you won't pull the entire holster out on your draw.
It's very lightweight.
Cons
This doesn't fit all belts. It's best to get a belt with a thickness of 1 ¾ inches in order to have a secure fit.
The cant of this holster isn't really adjustable.
Our second Concealment Express holster and final product on this list has an adjustable cant and retention functionality that can enhance the firearm drawing experience significantly. Like most Concealment Express holsters, this product also features Posi-Click technology so that you can very audibly tell when a positive connection has been made.
Pros
This holster utilizes a relatively large sweat shield to protect your firearm from moisture.
The trigger guard of your 1911 will be completely covered by the Kydex material. It's virtually impossible to have an accidental actuation occur.
The Kydex is .08 inches thick, which provides a very durable construction.
The cant and the retention are easily adjusted on this holster.
Cons
This Concealment Express holster has a tendency to scratch the slide when you're drawing your gun.
This holster can dig somewhat into your side.
---
Conclusion
The 1911 has a long history and is a very reliable firearm for daily carry. While it's not the easiest to conceal gun on the market, finding a good holster is crucial. The holsters that we've covered all are great for several versions of the 1911 pistol that have been released over the years.
Our Pick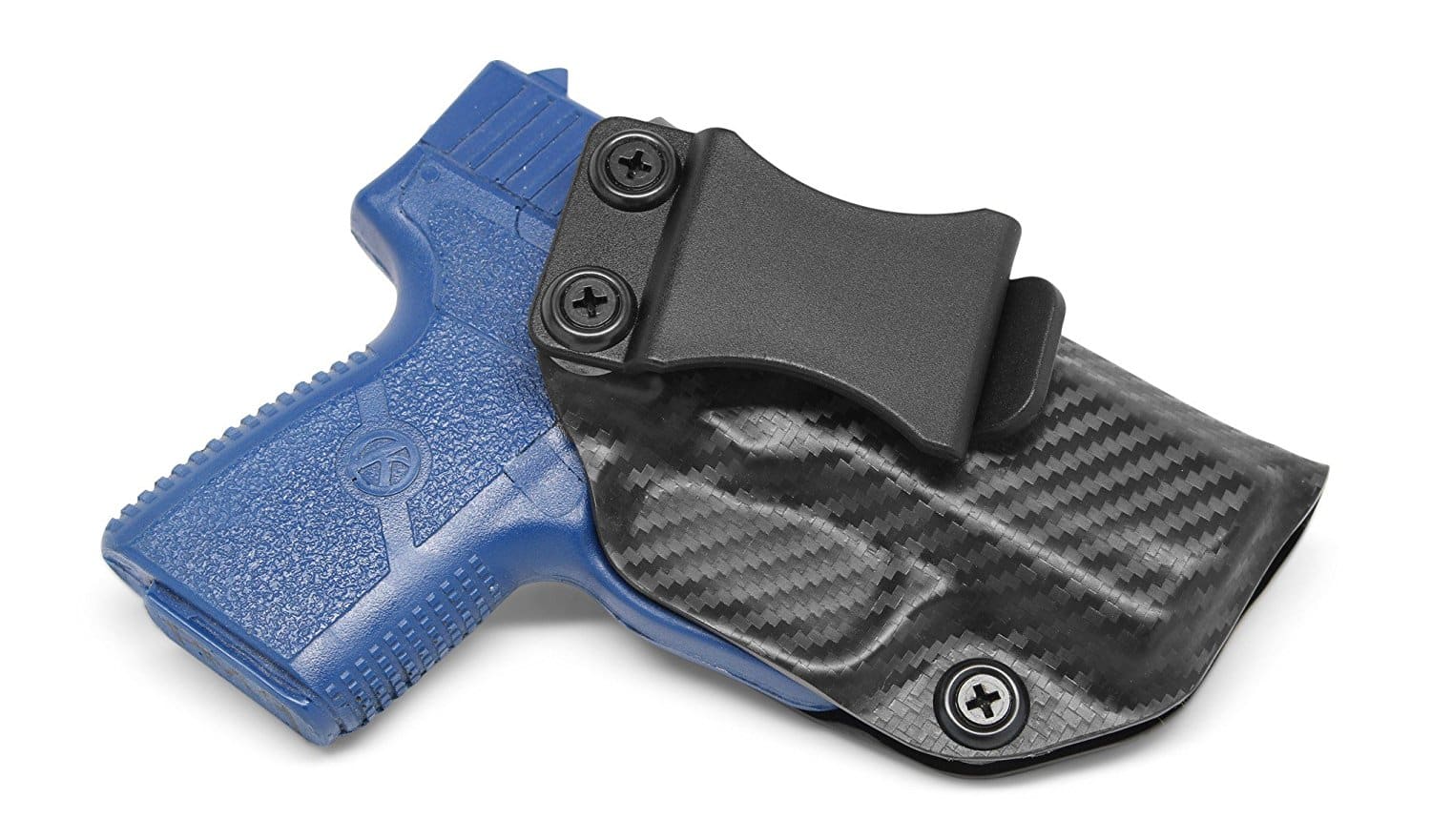 Out of these holsters, we still have to go with the Concealment Express IWB KYDEX Adjustable Carry Holster as our overall favorite. It has a great looking carbon fiber design, it's got the very satisfying "Posi-Click" retention system, and it's also a very comfortable choice for the daily carry of your 1911.
Related Reads: