Nothing is worse than having something in your line of fire and not being able to lock onto it. You might not think the added weight to your rifle is worth it, but the Dagger Defense red dot iron sight can really make a big difference.
The best red dot iron sights can easily be mounted to your rifle and be ready to use at a moment's notice. With all the advancements in the industry these days, there's no need to play it old school. Your chances of going home empty-handed are much lower if you get your hands on the right one.
Get Great Guns and Ammo Deals!
---
Things to Consider Before Buying the Dagger Defense Red Dot Sight For Your AR-15
Hitting the mark from up close and hitting from afar are two very different things. As you get further from your target, precision can become more difficult to achieve. You'll have to account for windage as well as elevation too.
A good iron sight will help you do just that. The apertures will show you what you can't see with your naked eye so you can take home the prize.
If you always hit your mark up close but have trouble making the kill from further distances, you may want to consider adding a BUIS (back up iron sight) to your firearm.
For people who don't find themselves long-range shooting often, a rail-mounted sight system might not be appropriate. Instead of weighing down your firearm with something you'll barely use, consider choosing an independent sight system.
If you're purchasing your first BUIS, you probably haven't got the first clue of where to start looking. Before buying an iron sight for your gun, ask yourself some of the following questions to narrow down your search.
Do I want a dual-mounted system?
Will the iron sight fit my style rail?
What distance am I trying to target? 100 yards or 400 yards?
Do I want a spring loaded flip up?
How flat do I want the iron sight to be?
Will it clamp firmly to my rail?
Figuring out the answers to these questions with each sight on your list can save both your wallet and your sanity. You won't experience any surprises once you finally receive your iron sight.
About the Dagger Defense Red Dot Iron Sights
The Dagger Defense Iron Sights are designed to clamp firmly to any device that has a Picatinny rail. Using a system of alignment markers these iron sights assist in your aim allowing you to hit your target every time.
These particular sights can be mounted on anything from an airsoft gun to a paintball gun, and of course a firearm.
When you purchase the iron sights from Dagger Defense, you'll receive a front mounted sight, as well as a rear mounted sight. Both use a co-witness system with AR Optics to give you the best possible results.
Those of you that have targets over 400 yards may want to think about a different set of sights. At around the 400-yard range, these iron sights begin to become untrue to themselves.
Pros
Made from sleek, lightweight aluminum alloy.
Two rear apertures to choose from.
Spring loaded flip up feature.
Folds flat and out of the way until needed.
Co-witness with mounted optics.
Cons
The springs are initially stiff and need lubricated.
After continuous use, the rear sight tends to pop up.
Not ideal for use over 400 yards.
The rear peep sight is a bit small for some users.
Won't work for Weaver style rails.
Features and Benefits of Dagger Defense Red Dot Iron Sights
Many reasons put the Dagger Defense Iron sight ahead of the rest. Today we'll take a look at some of the feature that makes this particular iron sight one of the best on the market. You may find that the advantages of this iron sight speak to you, or you might want to keep looking. In the end, it's up to you.
Attention To Detail
It's easy to tell that this BUIS was made by veterans. There's an incredible sense of attention to detail in this iron sight. As you'll see, these guys have thought of everything.
Engineered with the highest quality components like aluminum alloy you know you are getting a good piece of equipment. Not only do these sights look sleek but they also function well.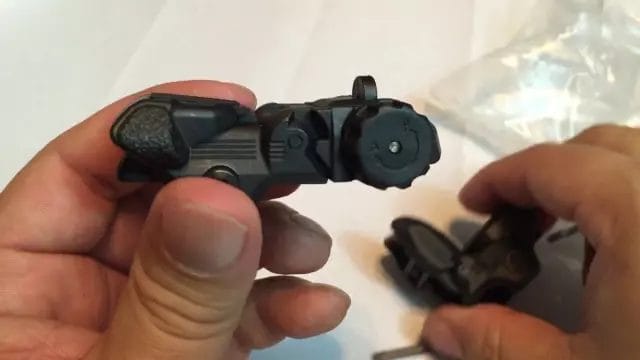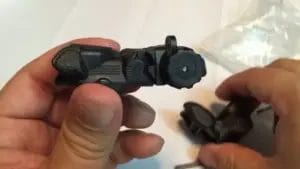 They are lightweight and easy to use. The rear iron sight weighs in at 2 ounces, and the front sight is only 1.5 ounces. If you are looking for a pair of iron sights that won't weigh your rifle down, then this is the set for your needs.
Having the proper balance in your gun is vital to hitting your target. Aluminum alloy is not only lightweight but also incredibly durable. The same aluminum used by Dagger Defense is is trusted by the US Army to build vehicles that can stand the harshest conditions possible. (1) If it's good enough for the Army, it's good enough for me.
Universal Mounting
The Dagger Defense Iron Sights fit most standard rail systems. Whether you plan to use these iron sights on an airsoft gun, paintball gun, or a good old fashioned AR-15, these iron sights should work well for you.
You can be assured they will clamp firmly to any tactical Picatinny rail for a secure mount. A Picatinny rail is one of the most common rail systems for rifles these days. It has overpassed its predecessor the Weaver rail which was based only on a low, wide dovetail. (2)
Spring Loaded Flip-Up
Many manufacturers are designing spring loaded iron sights these days. However, not all of them are as high-end as this pair. The designers of these iron sights know just how important it is to have your eye on the target instantly.
When engaged, these iron sights pop up with full force, so you're ready at a moment's notice. They securely lock into position every time ensuring you get your mark. The tension of these springs are extremely tight and give you a properly aligned view with each use.
One drawback to these sights is that the rear sight tends to pop up with rapid fire. If you shoot ten shots in succession, you may notice this occurrence. It can be somewhat annoying to have this obstruction in your view.
If the locking mechanism could be improved on the rear mounted iron sight, this might be the best AR-15 iron sight out there.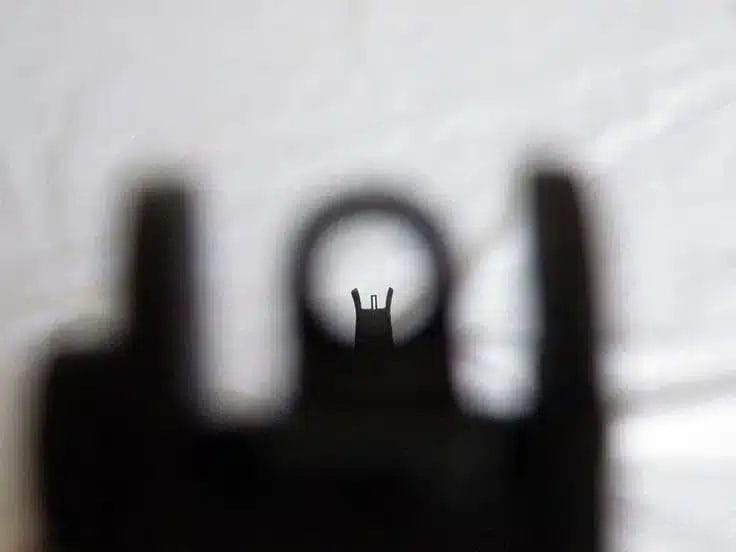 Two Rear Apertures
The rear sight offers your choice of two separate apertures so you can shoot at a number of distances. Not all sights have this special feature which makes this one of the best available.
They allow you to co-witness with your mounted optics so you can zero in on your target quickly and efficiently.
Use one of the two apertures that this iron sight provides to increase your field of view as you need it. Cutting out your peripheral vision by looking through a scope can enable you to focus on the target at hand. (3)
Some may feel that the peep sight is a bit too small. However, it does give you a better range because of its opening size. You may find that it takes some time to get used to before you are comfortable.
Folds Flat
The most important feature of any BUIS is the ability to be out of the way until you need them. You want something that will be out of the way until you need it.
These particular iron sights fold flat to the gun and will be waiting behind the scene. Once you need them, pop the spring, and they are ready for action.
Whether you plan to use these for some range time or in the field, these iron sights will give you precise marksmanship. You'll love the sleek, low profile design of this set of BUIS.
Easy to Use, Calibrate, and Clean
To install these backup iron sights, just slide them along any standard rail system and tighten them to fit your needs. They can be fitted in minutes and alignment is just as quick and easy.
If you've calibrated an iron sight before, you should have no problems aligning these BUIS to your gun.
Because the tension is so tight on the spring loaded flip up, you may want to think about lubricating the springs before using them. Otherwise, flipping the sights down can be relatively difficult.
What People Are Saying
You'd be surprised to learn that 85% of people who reviewed the Dagger Defense Iron Gun Sights had zero complaints about the product. In fact, most of the reviews all over the internet were extremely positive.
Most users tout that these BUIS' are just as good, if not better than some of the more expensive brands on the market today. With reviews like 'I am REALLY IMPRESSED' and 'They seem more rugged and solid,' you can feel pretty confident that this is a quality make.
[reviews]
Alternatives to Dagger Defense Iron Sights For Your AR-15
Trinity Force has created a fully adjustable iron sight that is making waves in the industry. Complete with a flip up rear sight and an A2 front sight, you'll appreciate the versatility of this BUIS.
The construction of this iron sight is sturdy and made in the USA. It's ideal for both close and distance sighting. The Dagger Defense model seems to have a slightly better rear sight but not enough to make too much of a difference.
Although this iron sight makes for a solid purchase, it does have a few drawbacks. The spring and bearing system can wear down over time, rendering it useless. Neither of the sights on the Trinity Force fold as flat as the Dagger Defense. Given the difference in price, this shouldn't come as a major surprise.
How Does It Compare to the Dagger Defense? (4.5 rating)
This site is great for spring loaded rifles, ideal for close and distance shooting. However, the spring and bearing system wears down quickly
Overall Rating: 3.5/5
There's more to these iron sights than a sleek look. The solid spring loaded design allows for quick
deployment so you can snag that mark without hesitation. It seems to have more of a 'pop' than the Dagger Defense so you're ready to go right away.
You'll benefit from the co-witness with standard AR optics when up. While not in use, the iron sights
are out of the way. Precision and CQB apertures on both the rear and front sights keep you focused.
While this BUIS does account for windage, it can be challenging to decipher. Instead of a white indicator, there is only an indent on the side of the sight. If you prefer a more pronounced windage,
you may need to mark it yourself or stick with the Dagger Defense.
How Does It Compare to the Dagger Defense? (4.5 rating)
Spring loaded, perfect for quick deployment. The Windage is difficult to gauge properly.
Overall Rating: 4.5/5
This backup iron sight is made with high-quality construction and comes with a few bonuses. The dual
aiming apertures, similar to what you'd see on the Dagger Defense, allow you to zero in on your target from any number of distances.
Fully adjustable for both windage and elevation so you can have an accurate hit. These iron sights attach quickly and provide a dead on, snug fit.
You should be aware that these sights are not spring loaded. You'll need to make sure the sight is extended fully each time you use it for it to function properly.
On the plus side, you'll have one less thing to worry about malfunctioning like the spring loaded mechanism on the Dagger Defense.
How Does It Compare to the Dagger Defense? (4.5 rating)
Manual, fully adjustable for windage and elevation. Small drawback: the sight needs to be extended each use.
Overall Rating: 4.5/5
Closing Thoughts
Personally, I really enjoy all the advantages that the Dagger Defense Red Dot Iron Sights have.
They are loaded with all of the latest technology for a fraction of the price. These sights won't weigh your gun down and are ideal for hitting targets from a good distance.
It's obvious that these iron sights were made and designed by United States veterans. The attention to detail is superior to other, more expensive brands on the market. Easy to install, align, and use so you can quickly get your mark.
If you'd like to learn more about the Dagger Defense Iron Sights, you can find more information here.
Sources
Related Reads: