You may have been asking yourself what is the best holster for your Ruger P89. There are several options out there for consideration. First you need to think about how you want to carry. Concealed carry? Open carry? IWB, OWB, shoulder? Your holster choice should fulfill your specific needs.
For an all around great holster our top pick is Blackhawk's SERPA Concealment holster.
This holster was designed with speed in mind. It's speed-cut design enhances rapid draw, targeting and reholstering, while keeping your eyes on the target. It comes with a belt loop and paddle platform.
Get Great Guns and Ammo Deals!
---
Things To Consider
You should consider how you would like to carry your firearm. If you would like to carry it concealed, you could look at inside the waistband, ankle or shoulder holsters.
Outside the waistband, another hip holster, can be considered for both open carry and concealed carry. You will need a long shirt or jacket to conceal with OWB.
You will also need to consider what material you are interested in. Leather, kydex and nylon are the most popular materials.
Budget, comfort, and even style are also things to keep in mind. Most holsters need to be ordered for specific guns because they are molded for certain makes and models. They are not usually ambidextrous so look for these different options when ordering.
When it comes to holsters, there are wants and there are needs. I've already gone over some of the wants, above. There are three things you need from a holster:
It must be secure. Your gun needs to stay in your possession.
It must protect the trigger. You don't want accidental discharge.
Your gun must stay in position so you can draw it easily in a stressful situation.
---
Holster Types
Let's take a look at some different types of holsters so you can have a better understanding of what each one is best used for.
Belt Holsters
Carrying a gun on the hip is the most popular way to carry. Before you think about the best type of belt holster, you may want to consider a good gun belt. Here's a quick video about gun belts.
IWB
IWB, or inside the waistband, does exactly what it's name says. The holster sits inside your waistband between your pants and your body. It can sit in different positions, such as in front of your hip or behind it.
They are made of either leather, kydex or even both. The hybrid kind has a large leather panel that sits up against your body for comfort and stability. The gun sits in a kydex pocket.
Pros
Easy to conceal
Excellent security
Cons
You need to wear pants about 2 inches bigger
OWB
OWB, or outside the waistband, sits, attached to your belt, on the outside of your pants.
There are different ways the holster attaches to your belt. It can have a belt loop, where your belt threads through the loops. Others have a clip that clips onto your belt and a paddle holster has a paddle that sits between your pants and your body.
Pros
Cons
Needs a long shirt or jacket to conceal
Shoulder Holster
This is the holster you probably think of when you think of FBI TV shows. This holster is made of leather straps that cross over your shoulders and back, allowing your gun to hand on one side and some extra magazines to hang on the other. Since it is worn over your shirt you need a jacket to conceal it.
Pros
Comfortable for sitting
Models with magazine holders balance the weight nicely
Cons
Muzzle pointing behind you
Jacket needs to be worn at all times
Off Body Carry
Carrying your firearm in something like a purse, briefcase or backpack may be a good option in certain circumstances. If you carry this way it is best to purchase a bag that has a special pocket for the gun.
You don't want to place the gun in a bag and allow it to freely shift around in there. Things could get caught around the trigger or you could get your finger around the trigger as you are fumbling around trying to find keys or something.
Pros
Can be used with any type of clothing
Cons
If you set the bag down your gun is not under your control.
Other Holsters
There are other popular types of holsters, such as ankle and pocket holsters. These types of holsters have become popular with the use of micro or compact pistols.
Pocket holsters fit in your pants front pocket, or jacket pocket. They are padded to hide the shape of the gun.
Ankle holsters are great for a backup weapon. They are comfortable for small J-frame revolvers.
Since the Ruger P89 is not a compact or micro pistol, the pocket and ankle are not good options for this gun.
---
Conclusion
If you are going to conceal your weapon, it is best to practice around the house first. Wear different things, find the most comfortable position to carry, and check your mirrors for any printing that may show through your clothing.
---
Top Pick Holsters for Ruger P89
This holster is a great concealment holster. It has the patented SERPA auto-lock release system for awesome security and keeps your gun positioned for correct drawing motion. It includes both a belt loop and a paddle platform.
Features
Level two retention holster
Audible click upon holstering
Includes belt loop and paddle platform
SERPA auto-lock feature
Pros
Adjustable cant
Adjustable retention
Audible click allows you to know gun is secure
smooth , safe draw
Comfortable
Cons
Hard to get on and off
Not comfortable while sitting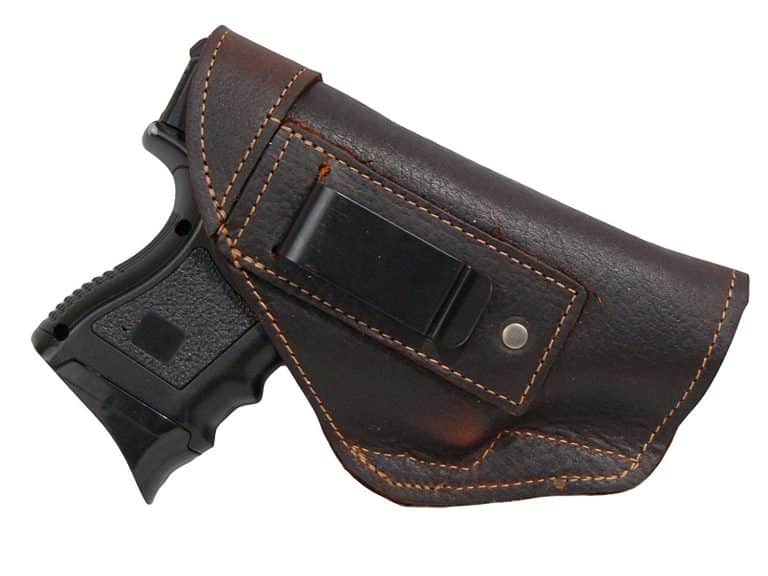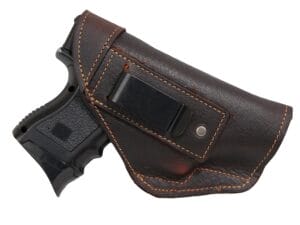 This holster is lightweight, has a belt clip and can be worn strong side, crossdraw or small of back. The clip is strong and is reinforced with a leather backing.
Features
Ultra thin four layer laminate
Internal moisture barrier
Clip hold holster secure
Pros
Fits Ruger P89 well
Trigger is guarded
Durable nylon
Cons
Not comfortable
Flap around the edge may snag
Clip wears out rather quickly
This holster was designed with adjustability in mind. You can adjust the rake and height to fit your torso and body type. This holster works good for both men and women. The paddle is soft and air vented for maximum comfort.
Features
East draw with the lead cut down
Rides close to the body
Fits belts up to 1 ¾ inches
Comes with paddle and belt loop accessories
Pros
Good retention
Easy draw
Adjustable retention screws
affordable
Cons
Gripping teeth may damage pants
Weapon may show signs of wear
Level one retention may be too little for OWB
A little bulky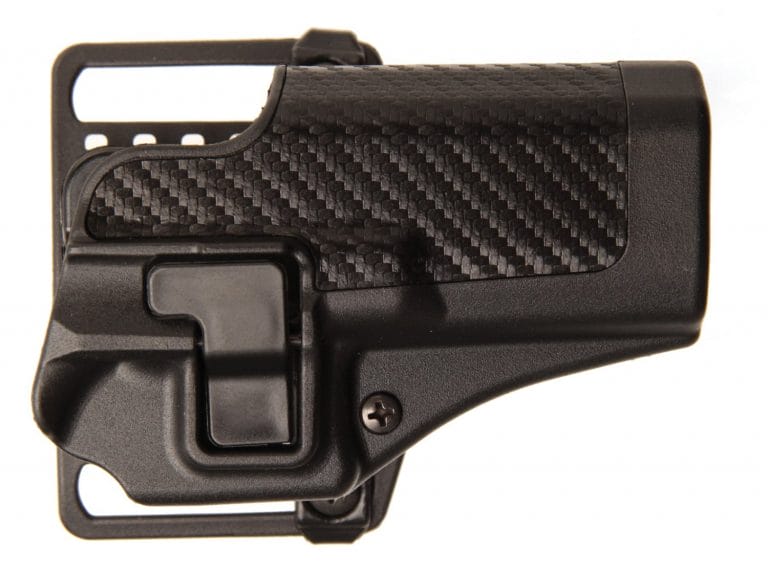 This Blackhawk holster features their unique speed-cut design which allows smooth draw and easy re-holstering, without slowing you down. It comes with belt loop of paddle accessories so you can choose how to carry.
Features
Adjustable retention
SERPA auto-lock release
Includes belt loop and paddle platform
Audible click upon holstering, for security
Pros
Lightweight
Solid build
Excellent security
Cons
Definitely needs a gun belt
Hard to get on and off
No extra magazine pocket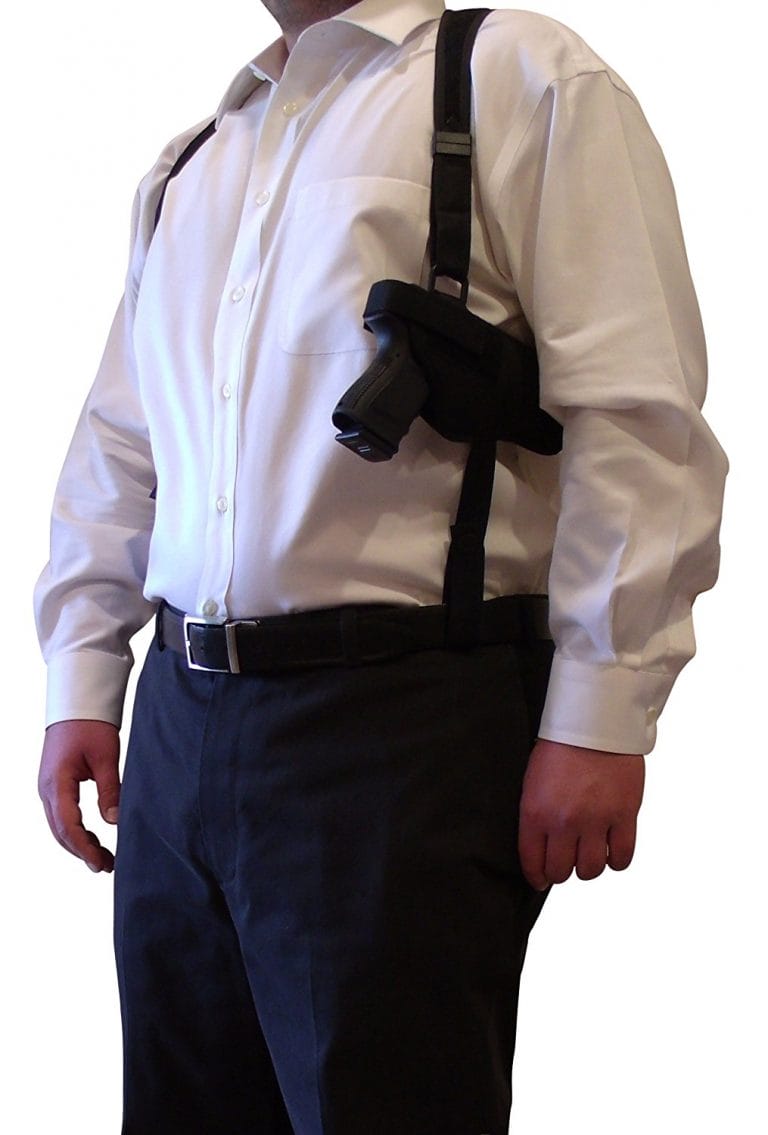 This is a universal shoulder holster that fits the Ruger P89. It is reversible so it can be worn right or left handed. Magazine pouch on one side to balance out the weight of the gun.
Features
Includes a universal holster to fit most medium or large frame pistols
Reversible for right or left handed cross draw
Double magazine pouch
Pros
Can be adjusted for large size men
Good quality
Affordable
Cons
May be uncomfortable
Heavy
---
Final word
As you can see, there are a lot of options out there for a holster for your Ruger P89. After doing the research, I decided that the Blackhawk SERPA Concealment Holster was my favorite choice.
Our Pick
The SERPA auto-lock feature makes this holster outshine the others. It is a great feature and makes this holster just about a perfect level two retention holster.
The Blackhawk SERPA Concealment Holster does the three most important jobs of a holster. It keeps your gun very secure, and in your possession at all times. It covers the trigger and it stays in position so you can quickly grab and draw if you need to.
Related Reads: