In 2016, a United States Army Veteran by the name of Ryan Marler, started Bear Arms Flag Company outside of St. Louis, Missouri. Marler proudly served in a scout sniper platoon with the 25th Infantry Division in Iraq from 2004 to 2005.
Together with his father, Marler handcrafts wooden American Flags and American Flag gun cases. What better way to show patriotism than with a custom-built gun and gear case featuring the American Flag?
Besides the Marler's devoted handiwork on magnificent gun cases, there are many other manufacturers who also specialize in their own signature brand of American Flag Gun Cases.
But before we review some American Flag gun cases from reputable companies, let's first take a look at an exquisite handmade wooden case from the Bear Arms Flag Company.
Get Great Guns and Ammo Deals!
---
1.

Bear Arms Flag Company Sleep Soundly Gun Case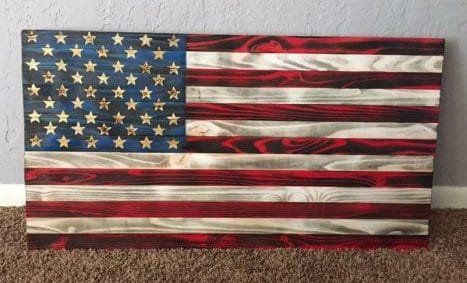 This wooden American Flag gun case shows your devotion to your country at its red, white, and blue best. Featuring individually painted stripes, torched and sealed to bring out the sublime texture in the quality grade pine wood, the vibrant colors of the case are magnified as well. This case is a terrific conversation piece for above your mantle, in a living room or on any wall in your home.
The inner compartment back wall is lined with felt to prevent scrapes and scratches. In addition, the upper compartment opens with gas shocks and offers a full length magnet that will firmly hold your handgun in place and the lower compartment opens to display a full rifle or shotgun rack.
The Sleep Soundly Gun Case features a rack to hold any weapon under 47 inches long and the safety feature on this model comes equipped with hidden magnetic child locks installed.
If you've been looking for a traditional, superbly handmade gun case decorated in our country's stars and stripes, and most importantly by an Army Veteran, you've just found it.
Features
Measurements: 4 feet wide x 26 inches tall
Weight: About 41 pounds
Price: $350.00
---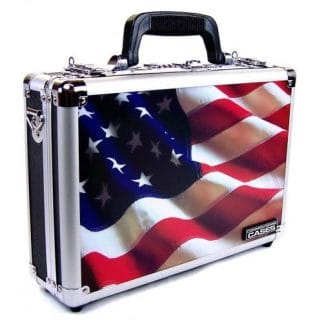 If a large wooden gun case isn't the one for you, try a smaller aluminum-made case from Common Sense Cases. The hard-sided Patriot case features cushioned foam, padlock clasps and combination locks.
The Patriot hard case is unlike any fabric case you've owned. You'll never have to worry about your expensive firearms or equipment getting damaged on your next trip to the range.
Features
American flag design on lid panel
Holds a single 1911-size pistol with magazines
Holds two 1911-size pistols without magazines
Comes with two padlock hasps and a combination lock
Features customizable ½-inch square DIY foam to form the best shape of any gun
Interior Dimensions: 13 inches x 8 ½ inches x 2 inches
Matte graphic on top of case with black textured ABS on sides and bottom
Includes loops for optional shoulder strap
Check latest price on Amazon
---
The Allen Company was founded in 1970 and is a leading worldwide manufacturer of hunting, shooting, tactical, archery, fishing, and various outdoor products. Over the years, the Allen name has developed a great reputation for providing the best products at affordable prices.
Depending on your outdoor activity and whichever gear bag you choose, Allen guarantees every product they manufacture. The Allen company team are outdoor enthusiasts and they actively participate in many conservation efforts. Made with pride in the United States, the Victory Tactical Rifle Case is capable of fitting guns up to 42 inches.
In addition, the eye-catching stars and stripes pattern allows you to show your support for the 2nd Amendment — and the exterior of this quality made rifle case is made from durable Endura fabric, while the interior is a soft knit lining.
Featuring thick foam padding and multiple external pockets for magazines and extra gear, the Allen Victory Tactical Rifle Case also offers a padded hook and handy loop carry handle.
Features
Single scoped rifle case
Rugged Endura fabric
Thick foam padding
Six external pockets for gear and magazines
Lockable zippers
Measures 42 inches
Soft knit lining
Padded Velcro carry handle
Made in the USA
Check latest price on Amazon
---
The Vaultz brand is a popular brand name in security storage products. They offer a wide range of fashionable products for transportation and protection of your valuables. The Hard-Sided Second Amendment Handgun Case is robust with reinforced chrome-steel corners and metal support rails.
In addition, this hard-sided handgun case offers additional security with either combination or key locks. The Vaultz company stands by their pledge for whatever you need to store — pistols, magazines, handguns and ammunition. If it's important to you, Lock it Up!™
Features
Chrome-steel corners and aluminum trim deliver strength and durability
Foam interior protects handguns and essentials
Double combination locks offers keyless security as well as a tethering cord
Optimal solution for transporting and storing your handguns
Measures 14.5 x 3.5 x 10 inches
Check latest price on Amazon
---
The Vaultz Locking Soft-Sided Second Amendment Flag Handgun Case is optimal to keep your guns protected and safely stored from children. Featuring open-cell compression foam in both the base and lid to hold handguns securely in place, the Vaultz Soft-Sided Handgun Case has room for two handguns.
Additionally, you can store more than handguns in this case. It's perfect for storing and transporting delicate items, such as electronics and optics.
Features
Secure your weapons safely while they're in transit
Spacious enough for two large handguns
13.75 x 9.75 x 3.75 inches
Tethering cable included
Check latest price on Amazon
---
6.

MidwayUSA Freedom Series Rifle Case American Flag
The Midway USA Freedom Series Rifle Case is offered in three American designs. For this review, we've focused on The American Flag Rifle Case in red, white, blue and an eagle, with the American symbol displayed on the front.
The inside of the case is as well made as the outside. Constructed of heavy duty nylon webbing sewn into the interior of the case, this sturdy product also features two heavy duty straps — no need to worry about your firearm sliding around the inside of the case.
With an inch of padding on the top and bottom on the case, there is an abundance of protection for your gun. This rifle case is functional as well as a great looking bag. Two heavy duty lockable zippers finish off the features of this case for added security.
The Midway USA Freedom Series Rifle Case is the ideal way you can protect your rifle and display your loyalty and support to our country all at the same time.
Features
Constructed of heavy duty nylon material
Anti-slip detachable shoulder strap
Heavy duty hook and loop retention straps
Full-length lockable zipper
Padded carry handle
Measures: 46 x 3 x 15 inches
Weight: 3.46 pounds
Locks sold separately
Price: $39.99
---
Final Thoughts
If you want to protect your firearms from children or unauthorized persons and keep your guns free from damage, a gun case is exactly what you need. And if you wish to show your patriotism and loyalty to the United States of America, why not invest in a case proudly featuring the stars and stripes?
You can accomplish both of these factors with the purchase of an American Flag Gun Case. Each case we reviewed above has a variety of features, functions, and cosmetics for your specific needs. You really can't go wrong with these patriotic gun cases.
But remember — finding the right size rifle case can sometimes seem confusing. A rule of thumb to understand the best case for you, is to put the items you want to include in the case on a floor or flat surface. Then, take some measurements, consider your needs and you're good to go. In addition, read some reviews on Amazon for more information.
Next step? Check out a few American Flag Gun Cases and get ready to take pride in a quality product consistent with your patriotic values.