If you've been following the latest in gun news, you know that bullet buttons are a hot topic this year. And if you live in California, well, you probably have first-hand experience with the controversy surrounding them.
Today, we are going to take a look at the best AR-15 bullet button alternatives available.
Get Great Guns and Ammo Deals!
---
What Are Bullet Buttons?
A bullet button is a device that was invented and named by Darin Prince of California back in 2007. The purpose of a bullet button is to allow you to quickly detach your magazine. It was created with California gun owners in mind who needed a solution to the strict assault rifle ban and other gun laws in the state that prevented them from being able to use their weapons to their fullest capabilities. And they caught on quick!
Fast forward to 2018, and now some of the big name gun companies such as Colt, Ruger, and Smith & Wesson are including these devices on a majority of their semi-automatic rifles. In many cases, it now comes standard on rifles these companies produce specifically for the California gun market.
Bullet buttons have, and continue to have, plenty of controversies that follow them, however. All of the controversy begins in 2004 when President George W. Bush let the national assault weapons law that was in effect at the time, expire.
When that ban expired, the firearms market witnessed an explosion of growth. Within a few months, the AR-15 became a favorite among rifle owners across the nation.
But there was still one major, lingering issue; the state of California decided to leave the ban in place. Anywhere in the country, you could legally under federal law, buy, own and use an assault rifle… unless of course, you lived in California.
All the fuss is over one bill; SB880. And it isn't so much a fuss over the bill itself, but rather, an inclusion of a new definition of assault rifles and the fact that in order to not be considered an assault weapon, it must have a fixed magazine. According to the bill, a fixed magazine is when a "feeding device contained in, or permanently attached to, a firearm in such a manner that the device cannot be removed without disassembly of the firearm action."
As any assault rifle owner can tell you, half the fun of shooting an assault rifle is the fact that you can easily and rapidly, reload your rifle. So, it is no surprise that there is a rather large demand from California gun owners for more accessible and lenient assault rifle laws.
---
How Do Bullet Buttons Work?
With this law in place that requires assault rifles contain only magazines which are permanently attached and cannot be removed without completely disassembling the firearm action, what do you do?
Easy, build a mechanism that complies with current state gun laws in its method of action, but just does it in a different way and does it faster than which you are normally able to do it.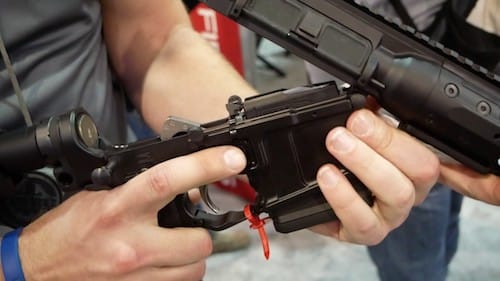 In order to do that, the Patriot Pin and the ARMaglock allow you to simply pull a pin which then splits the hinged upper and lower receivers. While the action is open, these two accessories make it so that they only release an empty magazine, thereby disassembling the action. Then, it is just a simple affair of throwing in a fresh magazine and closing the action.
It takes less than just a few seconds to get your rifle reloaded and ready to start shooting again.
Having said this, in recent revisions to California gun laws, bullet buttons were finally banned or rather, making them useless for California gun owners. The problem with bullet buttons that left them being out of compliance with the new laws is that they weren't permanent but rather, "fixed".
If you can break open the upper and lower receivers to remove it, it is not compliant. These new revisions left gun owners having just until January 2018 to register their rifle unless they decided to go the featureless route.
Luckily though, there are two after-market add-ons that you can get your hands on right now that aim to do exactly what bullet buttons did, just in a different way. The two
---
ARMaglock
The AR Maglock is a magazine lock and release kit that comes with a dual channel, multi-functional pin designed to turn your AR-15 into a permanently fixed magazine firearm while it is installed. This extremely simple yet extremely durable piece of equipment is made from aircraft-grade aluminum, comes with dual takedown pins, and is simple to install on your AR-15. As a matter of fact, check out this video to learn how to properly install the ARMaglock.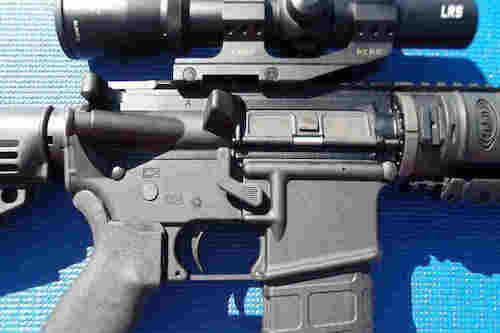 To use this add-on, you just pull the rear takedown pin with the help of a finger loop, which then breaks open the receivers almost instantly. With the receivers separated, you can now press the over-sized magazine release bar/button and the magazine will drop as normal.
Close the receivers, push the takedown pin back in, and insert your new magazine. It's that simple.
Disabling your detachable magazine and turning your assault rifle into a permanently fixed magazine rifle that complies with all current laws in SB880 has never been easier… At least for now.
Pros:
Easy to assemble and use
Takedown pins are smooth and finger hoop makes them easy to pull
Solid build quality
Cons:
If you have an anti-rotation hammer pin installed, the ARMaglock release will interfere with it
May need to drill pins or weld into place to make it comply with the laws (SB880 is tricky)
---
Patriot Pin
From the makers of the original Bullet Button comes their next product, the Patriot Pin. This add-on is compliant with the Mil-Spec AR-15 platform, and it is almost as easy to install as the ARMaglock, and twice as easy to remove if the laws change again and you need to find a new solution.
The Patriot Pin can beused by itself as a stand-alone add-on, but it truly works best when you couple it with a system like the ARMaglock. As a matter of fact, you can actually get both of these add-ons together in an easy to use Patriot Pin/ARMaglock kit.
To use the Patriot Pin, all you have to do is press the takedown arm with your thumb which in turn also pulls the takedown pin out.
Once you have the takedown pin pulled out, push the upper receiver forward enough so that you can press the ARMaglock to drop the magazine.
With the magazine released, close the upper receiver, push the takedown pin back in place and you are ready to pop in another magazine.
Pros:
Easy to install, even easier to remove
Works flawlessly with the ARMaglock system
100% compliant as of the date of this review
Cons:
You lose bolt-hold functionality
Not as high quality as the ARMaglock
---
Final Thoughts
California state gun laws are being revised constantly and as responsible gun owners, we must strive to stay in compliance with all new laws. To do this, the industry has been getting very inventive over the years and releasing some phenomenal ideas, designs, and rock-solid add-ons.
Both the ARMaglock and the Patriot Pin are formidable options for the California gun owner who loves their AR-15 and needs a way to use their firearm the way in which is was meant to be used.
If we have overlooked an add-on that does the same thing as either one of these two, but does it better, drop us a comment down below. We'd love to check it out and maybe do a review on it in the future.
Related Reads: