As the saying goes, "Don't poke the bear." That's very true, because who wants to aggravate an already angry bear? There will be certain times you may need to use bear spray for your own safety.
Bear spray, like pepper spray is extremely effective at subduing a threat, or in this case, a bear attack. In comparison, both sprays contain the same active ingredient — oleoresin capsicum, but bear spray actually contains a lower concentration. Typically, bear spray has a 1-2% concentration.
So, what's the reason that bear spray contains a lower concentration of this active ingredient? You would think that subduing a large animal like a bear would need a more powerful formulation, but it's actually the opposite.
The end goal of using bear spray is to scare off a charging bear, not cause it to become incapacitated and incur serious pain. Studies have shown that bear spray is really effective at reducing the number of bear attacks in national parks.
Get Great Guns and Ammo Deals!
---
Why Use The Best Bear Spray?
March 21 is the beginning of spring and it's right about the time for bears to wake up from their winter slumber. Bears are usually cranky to say the least. If you camp in Yellowstone National Park, you're in bear territory. Safety should always be your number one priority — but at this time of year, you really need to be on high alert.
Take an active role in protecting yourself by staying far away from bears and ready up on bear safety via the Yellowstone National Park website. While it's safe to carry guns in Yellowstone, one is not allowed to fire a weapon.
Even if you're camping at another location, it's still not best to use a firearm if encountered by an angry bear. Always use bear spray, as noted earlier. Guns simply don't work well against bear attacks. Bears are extremely tough and resilient animals — one shot to the head could stop a bear, but that will only aggravate the beast.
---
Proper Use of Bear Spray
The only time to use bear spray is when an aggressive bear is about to attack you. Bear spray should not be sprayed on any of your clothing or gear because the scent will actually attract the bears. See below for some handy tips on the proper way to use bear spray …
First and foremost, practice before using
Carry the bear spray where it's easily accessible
Maintain a decent distance between you and the bear
Focus on the bear at all times
Aim your spray at the bear's eyes and nose
Keep spraying the bear until it turns around (usually between 5-7 seconds)
A minimum recommended spraying distance of 25 feet — start spraying when the bear is 25 feet or closer.
Another word of advice: Bear spray should only be used as a last resort. Remain cautious and instead of walking tiptoe, make some noise. Making excessive noise in the bear's environment will help avoid surprising a bear. Therefore the risk of an attack is minimal.
---
Bear Spray & Pepper Spray Comparison
Never use bear spray on people! With that said, if you use bear repellent spray on a human, it will certainly have some irritating effects. But in reality, bear spray just doesn't do the same job as a proper pepper spray used for self defense.
Pepper spray is a self defense weapon intended to incapacitate human attackers and is very effective. Bear spray on the other hand, is more expensive than pepper spray. It's also harder to carry with you at all times because of its size.
Bigger bear equals bigger size spray! Pepper spray is conveniently-sized, easy to use, and much stronger. In the end, if you are serious about self defense, you really should invest in pepper spray. Just remember that bear spray should always be reserved for bears and packed along with your camping gear.
---
Best Bear Sprays 2021
It's safe to say that you won't get an accurate shot while running for your life. In addition, if you're with other people when you encounter a bear, you could accidentally injure or even kill someone. Bear sprays are non-fatal, so even if you accidentally spray your buddy by mistake, you know it will be okay.
Please keep reading for the best bear sprays on the market …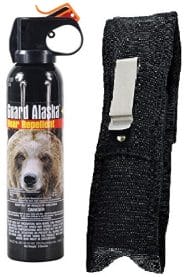 The Guard Alaska Bear Spray has been thoroughly tested in the Alaskan wilderness to ensure its effectiveness. Considered by some to be the sole EPA approved bear repellent for all species of bears, its fogger delivery system covers the bear's face in nine seconds.
Weighing a mere 9 ounces, it contains 1.34% of total capsaicinoid formula. Although it's not the most intense formulation for bear repellents, it does exceed the 1% minimum stipulation by the EPA. Featuring a 15-20 feet delivery range, which is above the recommended minimum, it isn't as much range as some other competitors.
Manufactured by Personal Safety Corporation, it guarantees a 4-year shelf life and offers a 30-day money back guarantee. In addition, this environmentally friendly product is non-flammable and contains no substances that could harm the ozone layer. The Bear Guard Alaska Bear Spray is the perfect solution for the environmentally conscience nature lover.
Features
Suitable for all species of bears
Available in a 9-ounce supersize
Approximately 15-20 feet spray range
Dimensions: 8 ¾ inches x 2 inches
30 day money back guarantee
Excellent customer service
Comes with free holster
Check latest price on Amazon
The Frontiersman Bear Spray by the Sabre company is one of the best sprays you can buy. This strong and user friendly bear spray has a spray range of 30 feet, which is comparable to other brands.
Offering a super heavy, thick, and quick foggy air to give you the ultimate in safety and protection, the Frontiersman Bear Spray offers enhanced accuracy and quality that has been tested by Elmendorf Air Force Base in Anchorage. In addition, this product includes a chest or belt holster for quick and easy access to the canister in case of a bear attack.
Features
Maximum strength — 2.0% major capsaicinoids allowed by EPA
Superior protection at a safe distance
Rapidly delivers maximum spray coverage of heavy fog
Improved accuracy and efficiency
Easy access thanks to chest holster
Field proven effectiveness by Elmendorf Air Force Base (Elmendorf, AK) and Brown Bear Resources (Missoula, MT)
Effective against black, brown and polar bears
Check latest price on Amazon
Counter Assault was established in 1986 in Missoula, Montana. Today, the company is located in Kalispell, Montana and have provided over 30 years of customer satisfaction with numerous enthusiastic testimonials of product effectiveness.
In addition, their products have been scientifically field-tested by the University of Montana, University of Calgary, and Cambridge University. Counter Assault is one of the true champions when it comes to producing top of the line pepper spray for bears. As well as being one of the first major companies on the market, Counter Assault has remained as one of the few well-known names in the industry.
Counter Assault Bear Deterrent is most likely the one you'll see on the trails. This might be because it's the most popular when you're shopping for bear spray. The Counter Assault company is known as one of the early pioneers of pepper spray producers for use against bears and their bear deterrent is a fine testament to their quality.
Available in a 10.2 ounce size, this spray can reach a range of 32 feet (most other leading brands feature a similar 30-feet range). It can reach to the maximum range within approximately 9.2 seconds. If a bear is charging you at a speed of 35 MPH, the Counter Assault deterrent spray will certainly keep you covered with its 32-foot range.
Because when you're being chased by a bear, confidence is the one thing you need most! Lastly, this bear spray canister features a safety cap to avoid any accidental discharge or leaks.
Features
Spray reaches 12 to 32 feet and empties in approximately 9.2 seconds
Features a safety cap to help prevent accidental discharge
Use with extreme caution!
Can disable user, rather than the attacker — if used improperly
Four year expiration date
Check latest price on Amazon
I'm sure you've heard stories about bears attacking hunters or campers, some survivors and some non. One particular case of a bear-attack survivor involves the founder and creator of UDAP Bear Spray.
Carefully made by someone who knows first hand what can happen when you're not prepared, this quality product is registered with the EPA and has a 30-foot range of effectiveness. The UDAP 12HP Bear Spray is proven to be effective in preventing all kinds of bears from attacking anyone who uses it.
Additionally, the formula used in this spray can immediately affect a bear's lungs, eyes, and nose, thus immediately stop a bear charge. The only disadvantage to the UDAP 12HP has a fleeting spraying duration — unfortunately it's below the recommended 5 seconds.
Features
Maximum EPA stipulated CRC of 2.0%
Good 30-foot spray range
Includes a free 32 page booklet on bear safety and tips
Glow in the dark safety clip with chain attached
Developed by a bear attack survivor
Check latest price on Amazon
The Mace Bear Pepper Spray features an EPA approved formula. Extremely safe, humane and very effective at deterring and preventing bear attacks, this spray packs a punch with a powerful blast at a heat level of 2.0% capsaicinoid concentration and a spray range of up to 35 feet.
Mace brand products are one of the most trusted names in self defense and their bear spray is certainly no different. The Mace Brand Bear Pepper Spray is an absolute to protect yourself and others while hiking, camping or doing any other activity in bear country.
Mace Brand Bear Pepper Spray has a shelf life of 3 years and is available in a 9-ounce size of 260 grams and can protect up to a range of 30 feet in about 6 seconds. As always, you can count on Mace for the best in protection and safety. Mace Brand Bear Pepper is a must have for your outdoor needs.
Features
EPA approved
Size: 9 ounces
Fog spray duration: 5-6 seconds
Range: Approximately 35 feet
2.0 % capsaicinoid concentration
Features finger loop handle with safety clip
Check latest price on Amazon
---
Final Words
Even though bear attacks are rare, they're not uncommon. Death as a result of a bear attack is even more rare, but you always need to be prepared when you enter bear country or anywhere in the wild. Wouldn't you rather be over prepared and not need protection, rather than need protection and not have said protection?
But unfortunately, simply carrying bear spray does not make you invincible. An encounter with a bear is scary and dangerous — with or without bear spray. If possible, avoid meeting a bear by keeping to the well traveled path. Another good idea is to take a wilderness first aid course.
To purchase the right bear spray, keep in mind that you need to select it very carefully. Bear spray is a tool that might defend you from dangers in the wild and if you choose unwisely, you might be in trouble. In addition, understand the ins and outs of proper spray uses.
So what's our top pick? While all of the bear sprays mentioned in this review get the job done, the Counter Assault Bear Deterrent could very well be one of the best on the market today. Besides its 2.0% CRC strength and 32-foot spray range, the Counter Assault features a long 9.2 second spray duration which enables the user to stop a charging bear at a safe distance.
And finally, never buy the cheapest brand on the shelf. If possible, buy the best bear spray with the highest rating in accordance with EPA standards. Be prepared for the worst case scenario and never let your guard down!
Related Reads: