Maybe you don't have enough space in your room to house a traditional gun safe.
Or maybe you're just looking for something that affords you more discretion. Either way, an in wall gun safe is an excellent alternative.
The truly outstanding thing about in wall gun safes is the fact that it is hidden from the prying eyes of snoops and burglars. In wall safes are just what they sound like—safes that are built into your wall.
And the best part of all: Most in wall gun safes are designed to look like wall-mounted mirrors when they're shut.
In wall gun safe owners can even hire interior designers to customize their safe so that it looks like the wall it is built into.
Another attractive feature of the in wall gun safe is its size. In wall gun safes are far bigger than traditional gun safes, affording you more space for ammunition and additional weaponry.
---
Things to Consider Before Buying an In Wall Gun Safe
When choosing an in wall safe, an important factor to consider is accessibility. For the best gun safe experience, you'll want to choose a model that is easy to unlock in a timely manner.
In a home defense situation, you'll want to get to your gun(s) as quick as possible which is why the location of your safe is as pertinent as accessibility. For the best results, I strongly recommend installing your in wall gun safe in the wall behind your bed.
Quality wall safes are designed to be waterproof, but in wall gun safes must be built into an existing structure. As such, you should ask your contractor to build the structure a few feet off the floor so that, in the event of a flood, your safe won't be compromised.
Children are naturally curious and any curious locked-off object will peek their curiosity. They've entered gun safes before and ended up injuring themselves or others. For this reason, you should take proper precautions to keep your gun safe concealed and secured at all times.
These are just a few tips to consider before customizing your own in wall gun safe. We'll discuss this further in our in wall gun safe buying guide, but before we get to that, let's look at my top 5 picks for in wall gun safes.
---
5 Best In-Wall Gun Safes on the Market Today
Get Deals on Guns and Tactical Gear
Join 70,000 Readers For Our Weekly Discounts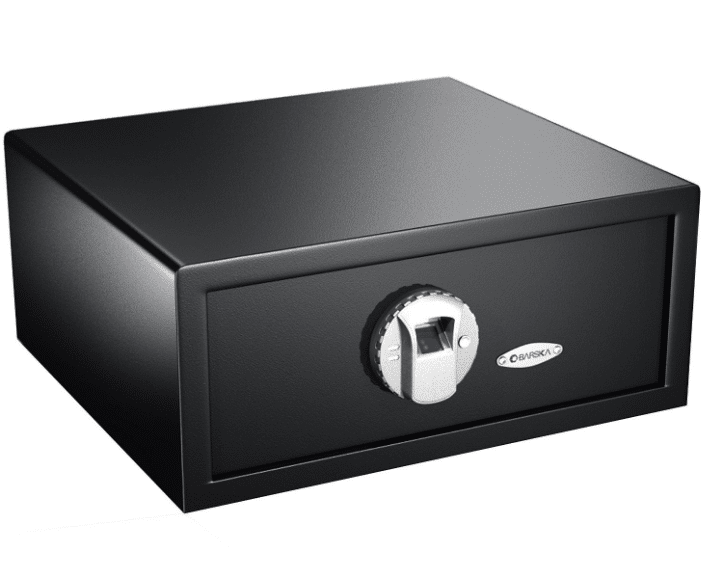 This top of the line safe comes with a biometric fingerprint reader which makes it much faster and easier to access your gun safe in the event of an emergency situation. If you're experiencing a home invasion or you have to grab your passport in a hurry, you won't want to grapple with your keys or try to remember some elaborate code.
The biometric in wall safe solves this problem by enabling you to store multiple fingerprints in your reader. This model will recognize as many as 120 different fingerprints so you can feel free to enter your fingerprint at a variety of angles to ensure that you'll get a clean reading every time.
And you'll never get locked out of this safe because it also comes with two override keys in the event that the reader malfunctions or doesn't recognize your fingerprint.
It has a two-year battery life (dependent upon how often you open the safe) and carries with it a one-year warranty.
Unlike most in wall safes, the Barska Biometric model is much more compact and the external battery compartment takes the fuss out of replacing the batteries when they've lost their juice.
Inside the safe, you'll find a number of shelves that comes in handy when organizing your supplies. It also has pre-drilled holes for easy mounting.
The shelves aren't the strongest around, but if you're looking to store a couple boxes of ammo and some personal papers (passport, birth certificate, whathaveyou) they more than suffice.
There's very little I can say that's bad or subpar about this model. The only true drawback is that it's not fireproof. Then there's the price which is pretty high compared to other options on this list. But as the man said, you get what you pay for.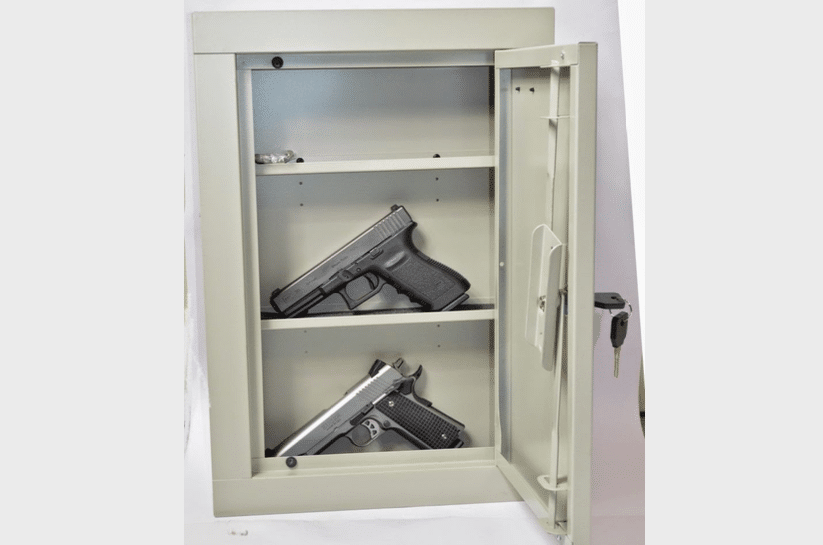 The IWC-22 is another small in wall gun safe, one that comes with sturdier foam padded shelves. The foam padding prevents against wear and tear, protecting your valuables against scratches and other damage.
Unlike the Barska Biometric safe, the shelves on the IWC-22 are made from steel so you'll never have to worry about them collapsing or caving in. They're also removable if you want to reorganize your safe or remove one of the shelves to make room for larger items.
Whereas the Barska Biometric gun safe only comes with a one-year warranty, you get three years of protection with the Stack-On IWC-22. This warranty covers everything from defects in the safe to workmanship issues.
The IWC-22's height is adjustable and the locking mechanism is quite strong compared to similarly priced competitors' models. And it's a steal for the price.
Unfortunately, it's neither waterproof nor fireproof and the shelves are pretty narrow, but for most practical purposes, this is a viable option.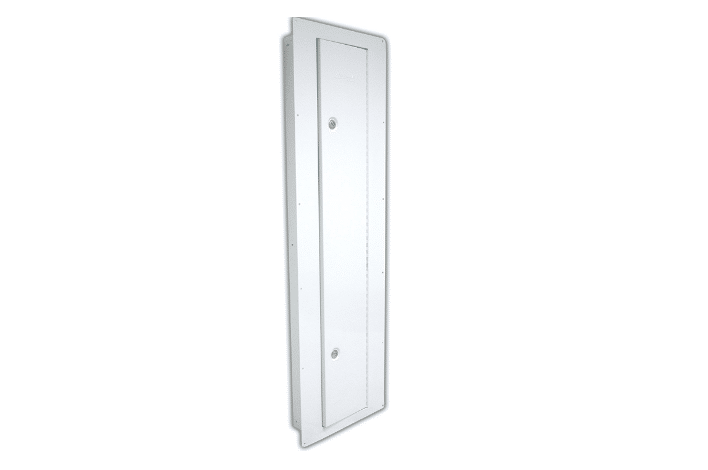 This 53 lb bad boy safely secures firearms, ammo and other valuables by making use of a full length piano hinge on the door. It's constructed of heavy, cold hard steel, making it virtually impenetrable to even the savviest of thieves.
It also carries the industry's toughest powder coated epoxy finish. And perhaps the best thing of all is how easy it is to conceal behind a mirror or inside a closet.
It contains a cutting edge tubular security locking system and conveniently fits between sixteen-inch center studs. It can also be attached to the floor.
At a higher average price, Homak wall safes are an affordable option where you get quality without laying out your hard-earned dollars in quantity.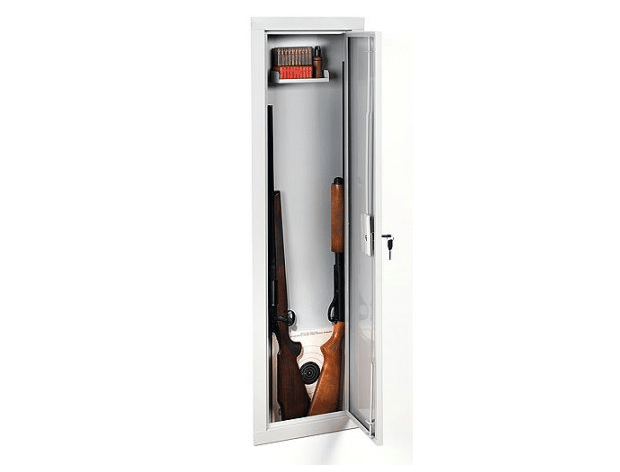 This steel gun safe is ideal for those with shotguns and rifles. It's a larger model than most of the others on my list and it's got the same three-year warranty of other Stack-On models.
This safe is designed to be flush with the wall, making it that much easier to keep it hidden from interlopers. It also comes loaded for bear with two large shelves and one small shelf, each of which is removable.
Keep in mind, however, that these shelves will have to be removed when storing rifles and shotguns in the safe. Which brings me to the cons to all of these pros.
The IWC-55 is made of material that makes it easy for an intruder to break into the safe with a pry bar.
Another drawback is the lag bolts which are easy to strip since they're nothing more than basic Philips head screws.
Other than that, this one's a good choice if you need a simple, easy to conceal in wall safe. It's a mid-range model in terms of price with most retailers selling for eighty one to eighty three dollars.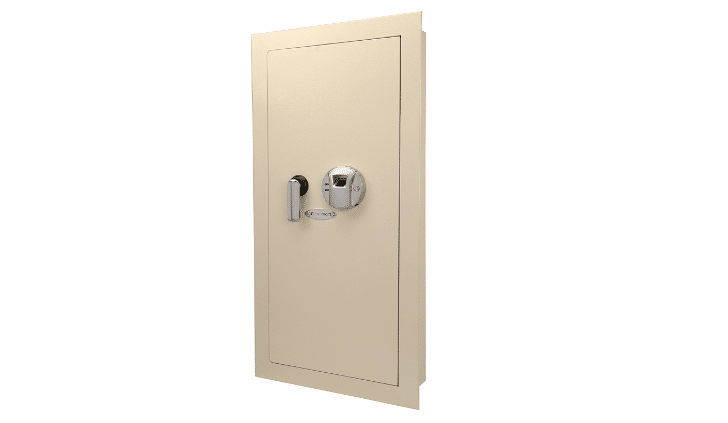 Many people favor this model for the color and the features. Its biometric fingerprint reader enables you to program as many as 120 different fingerprints.
One of the many unique features to this one is the iinternal compartment that can be locked independent of the safe itself. It's the perfect little compartment to store handguns, passports or cold, hard cash.
It also contains a small, foldout tray that can serve as an impromptu table if you want to play cards or do some late night work. Very few wall safes on the market have anything remotely like the Barska Biometric.
At a higher price point, it's a bit on the pricier side, but it comes with all the bells and whistles one could want in an in wall gun safe including an interior LED light and two back-up keys.
---
In Wall Gun Safe: Buying Guide
Crime statistics have skyrocketed in recent years and home invasions are far more common than you might think. According to statistics, a household member was present in approximately 1 million burglaries between 2003 and 2007.
Since then, the numbers have blown up that much more. We are not safe. But we can take measures to protect ourselves and an in wall safe is a surefire way to do just that. It enables you to keep the fact that you have a weapon a secret from undesirables.
Owning a gun comes with responsibility, not least of which is keeping your gun out of the reach of your children or their friends. An in wall gun safe ensures that your kids will never be able to gain purchase to your firearm locker.
Not all the safes are the same and features vary widely from model to model. Keep this in mind when choosing an in wall safe as you may require certain features that some of these safes don't possess.
---
What to Look For
When purchasing an in wall safe, remember that there are several things you'll have to do in order to install it. Location, location, location. It really is everything. You'll want to keep the in wall safe close to you so that you access it quickly and easily.
If you're installing an in wall gun safe in your bedroom, you'll want to consider whether installing it by your bedside is an option. Indeed, this would be the best option of all.
No matter what room of the house you install your in wall safe in, you'll want to conceal it. A hidden wall handgun safe is a wall safe that won't be compromised.
Some in wall safes come with features that are tailored to concealment, but you may have to take additional measures in order to fully camouflage your safe.
---
The Best Place to Hide Your Gun at Home
When considering safe concealment, you should think about your budget. Do you want to buy a safe that's not readily concealed? How much money do you have to spend on concealing it? Oftentimes, this will require bringing in an interior decorator who can assist in the concealment process.
Measurements are also key. If you already know where you intend to place your safe, be sure to find out the measurements of the model you're thinking about buying to make sure that it will fit in the desired space.
Solidification is another important factor. Once you've prepared the area where your safe will sit, make sure to cement around the perimeter to build a strong foundation.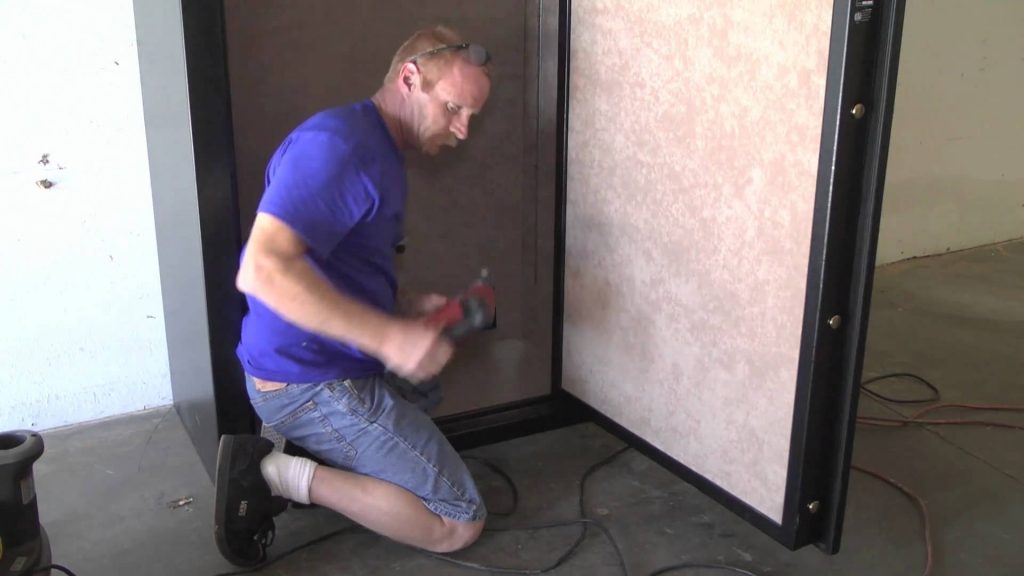 Security is the next big thing when it comes to owning an in wall gun safe.
You may think that your valuables are safe just because you think no one can see it, but a crafty burglar may be wise to the latest trends in home safety and might just be able to spot your safe despite you hiding it. With this in mind, I strongly urge our readers to get an alarm system.
There are a number of systems on the market including the popular SafAlert system from Liberty Safe that sends alerts to your smart devices when a burglar attempts to compromise your safe. Motion sensor alarms are also a common security measure taken.
You may also want to consider wall materials and whether the in wall gun safe you're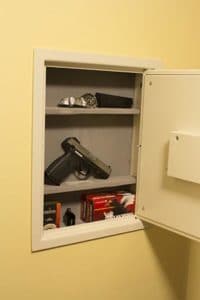 thinking about purchasing is compatible with those materials.
Another relevant factor is weatherproofing and the like. As we've seen on my list, some of these popular models lack fireproofing or water resistance. If you live by the water, you'll want to install your in wall safe several feet off the floor.
If you're concerned about fire damage, you'll want to select an in wall safe that safeguards against this. The AMSEC WFS149 Fireproof Wall Safe is a worthy option for this purpose.
Do you need to get into your safe in a timely manner? If you're seriously considering a safe in the first place, you're obviously aware of the threat that home invasions pose. For home defense purposes, you want to access your firearm(s) in an expedient fashion.
For the money, the digital keypad is the way to go. It bests traditional locks almost every time and is second only to the biometric safe with fingerprint reader.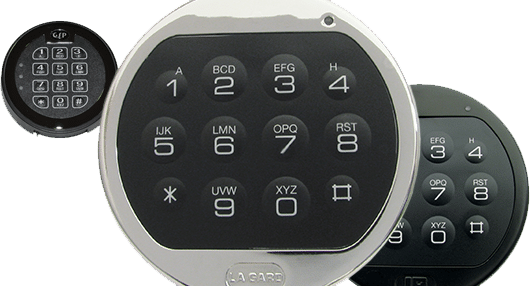 Size really does matter, at least when it comes to gun safes (relax, guys!). The long gun wall safe is an option you may want to consider if you're looking to store rifles and the like.
Some long gun wall safes can be quite expensive (see: Amsec USA VD8030NF Vault Door), but the Homak Large Wall Gun Safe generally retails for under $150 and sports a clever design and a flush locking mechanism.
The Homak model can be easily concealed behind furniture or art and has a 4-point keyed lock with 2 keys. It's also made from heavy gauge steel which means that it's much more impenetrable than similar models.
You'll also rest easy knowing that you're getting your safe from a reputable company as Homak has been in business for nearly sixty years and have a strong reputation for providing quality storage units, locks, tools and more.
---
Don't Get Fooled by the Myths
When it comes to gun safety, there's a lot of BS and misconception out there. A lot of people say, "My gun safe is so heavy that it doesn't need to be bolted in place."
This is 100% false. With the right kind of tools, a burglar could easily make off with your safe if it isn't properly secured in place.
This is also true of anchoring. Just because a safe is anchored between studs does not mean that it cannot be spirited away with the right set of tools. At least one pair of thieves have made off with 1500 lb gun safe.
If a safe isn't bolted in place, burglars will dump it onto its side to gain proper leverage with a pry bar.
Another reason why you should really consider purchasing an in wall gun safe instead of a traditional model is the falsity of the age-old myth that gun safes intimidate burglars. This ridiculous theory is absolute rubbish.
Nowadays, gun thieves and other miscreants can watch YouTube tutorials on how to break into a safe or Google safe cracking.
---
Conclusion
In summary, there are plenty of in wall gun safe options on the market, but it ultimately comes down to what your personal needs require.
If you're looking to store handguns and smaller items, you'd do well to purchase a model like the Stack-On IWC-22 In-Wall Cabinet.
If you're looking for a larger model, Homak has the safe that'll meet your requirements.
No matter which one you choose, make sure to check out our list of things to consider above before settling on your final choice.
Related Reads: