You've just found your ideal concealed carry firearm: the S&W Bodyguard .380.
Nice! This pocket pistol makes concealed carry a breeze. You may be thinking: now what?
So, now you need to find a holster to fit your new gun and to blend with your lifestyle. Let's take a look at some general options for concealed carry.
Get Great Guns and Ammo Deals!
---
Some Options For Holster Type?
There are several ways you might decide to carry your S&W Bodyguard. Such as:
In-the Waistband Holsters
Pancake Holsters
Paddle Holsters
Pocket Holsters
Semi-Permanent Slide Mount Clip
Belly Holsters
You might even choose to use different holsters for different occasions, depending on your attire.
Some holsters may work well in pants with deep pockets, others will require a belt. Also, consider your dominant hand and how you want to carry before you decide on a holster.
So, let's take a look at some holster types that will work with your Bodyguard.
In-the Waistband Holsters (IWB)
These holsters are designed to fit inside your waistband, effectively concealing your firearm under most circumstances.
They are usually made of leather or nylon with a clip to secure the rig to your pants.
Keep in mind when ordering that these holsters can be either right- or left-handed.
Pancake Holsters
These are made of leather or nylon and slide onto a belt.
They are usually form-fitting for a specific firearm, and are designed to be as flat as possible.
However, you must use a belt to wear one, and they are either right- or left-handed.
You must also remember that this will sit outside your pants; a long shirt or coat will be necessary to ensure concealment.
Paddle Holsters
This type of holster is usually made of tight-fitting polymer for specific models.
They attach by use of a curved paddle which slides into your waistband.
They often have adjustable tension screws to adjust the retention of the firearm, and many come with the ability to customize the cant (carry angle) as well.
Pocket Holsters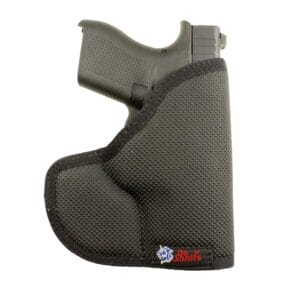 Some of these holsters are somewhat sized to general frame styles.
A generic pocket holster for the Bodyguard might also fit the Ruger LCP or other similar types of firearms.
Others can be purchased form-fitting to specific makes and models of pistols. Some are right- or left-handed while some are ambidextrous.
They are usually made of leather or nylon, and the shape is intended to blend away the lines of the handgun.
Semi-Permanent Slide Mount Clip
This is a simple metal clip that can be mounted, on the S&W Bodyguard, by removing a peg from the top of the webbing guard just below the slide.
The clip comes with its own replacement peg to mount the clip directly to the frame of the handgun.
This allows you to carry your firearm inside the waistband without the need for a holster.
Make sure to save the original peg; the clip can be removed should you ever need to.
Belly Holsters
These are usually made of a neoprene band similar to knee or ankle braces with an elastic holster stitched into them.
They are popular with certain types of people, and can be adapted to wear inside the waistband (IWB) or even up under the arms like a shoulder holster.
They usually have an extra magazine pouch and come with an elastic retaining strap to ensure a secure hold to the pistol.
However, belly bands may not be ideal for all body types.
---
Specific Branded Holsters
Now that we've identified some of the types of holsters you can use for your Bodyguard, let's look in detail at some different specific bands, their features, and their advantages and disadvantages.
This is a clip designed to replace a pin somewhere on the gun.
In the Bodyguard, it's where the back of the grip swells toward the ribbing of the thumb.
Remove the peg and replace it with the Techna Clip, and you have an instant clip similar to those on many pocket knives.
I know a friend who uses one of these on his Ruger LCP, and swears by it. He says it won't interfere with most holsters, so you don't necessarily have to take it off to use a regular holster.
This clip made of high carbon steel is model specific and comes with extra screws and the proper allen key.
It is right- or left-handed, so make sure to order for the proper side.
Handmade from suede leather, this holster comes with a large, sturdy metal clip to safely secure it inside your waistband.
It's somewhat form-fitting, though it can handle handguns with similar frame styles.
This holster is available in both right- and left-handed options, so be careful when ordering to ensure you get the right one.
I know someone who has one similar to this for his Ruger, and he really likes it.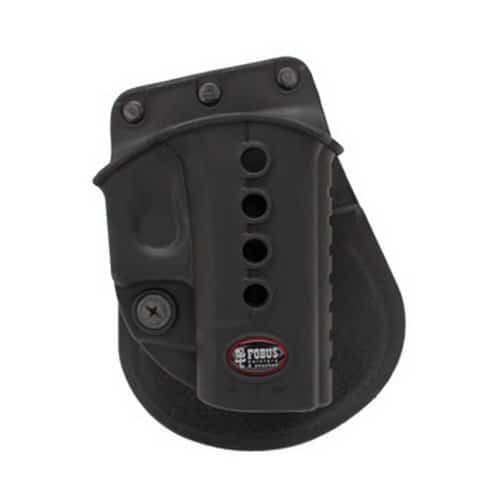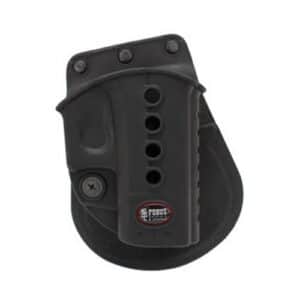 This is a one-piece molded polymer holster specific to the Bodyguard, so make sure you order the right one for your model.
The holster boasts an adjustable retention screw to ensure the perfect fit to your pistol and a molded sight guard channel to protect your sights.
However, it may not work if your Bodyguard model has any of the factory built-in laser sights.
The smooth paddle slides into your waistband,and may ride high on the hip. This holster does not appear to have an adjustable cant (carry angle) like others of the same style.
At the time, it was a tad uncomfortable around my bony hips, but let's just say I've put on a little padding since those days, so that might not be as big an issue now!
This is a holster made from Kydex rather than other types of polymer.
It's molded specifically for the Bodyguard and will work with our without the factory-installed laser.
Unlike the Fobus, this holster does sport an adjustable cant (from 0 to 15 degrees), but it doesn't have an adjustable retention.
One downside to Kydex material in gun holsters is it can be abrasive and has the potential to scratch your finish, and for this reason, it's avoided by some.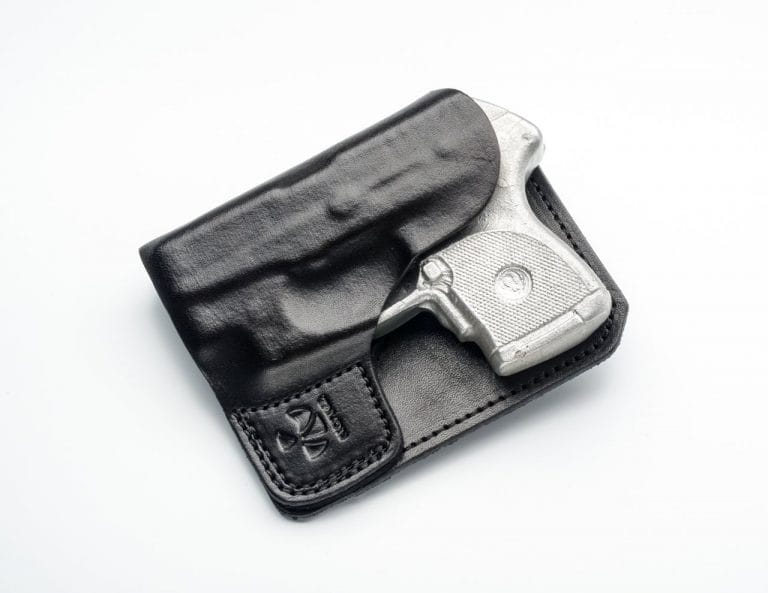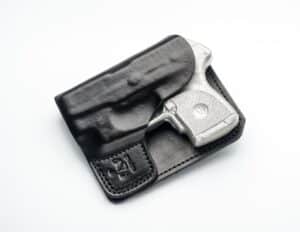 This neat little leather holster is the same size and shape as a man's wallet and is molded on one side to fit specific model pistols.
The other side appears flat, just like any other wallet.
According to Talon, this type of pocket holster is their most popular model.
It fits easily into a man's back jeans pocket, but I imagine it would work well in cargo pants or other deep front pocket slacks as well. It's designed by law enforcement personnel and made of steer leather.
After researching some of the various holsters, you likely have a good idea of what will suit you. The styles of holster are almost endless, and you can choose several different ways depending on how you plan to carry your firearm.
In fact, why limit yourself to just one? If you can afford it, you might choose two or more different holsters, so that you can carry concealed no matter what you're dressed for.
---
A Final Thought
When it comes right down to it, if I were to carry a gun like the S&W Bodyguard .380, it would be mostly for the purpose of self-defense. I would want the most versatile and invisible holster I could find.
So, my pick, hands-down (no pun intended) would be the Techna Clip. However, many women's front jeans pockets are probably not large enough to conceal the Bodyguard.
If you're a woman who wants to buy one, I would make certain to buy pants with larger pockets, even if I had to go to cargo pants rather than jeans.
The Techna Clip could be worn in slacks, shorts, and some skirts, and after installation, is a permanent part of the firearm, so your holster is always close at hand.
If I were to make two choices for various types of apparel, I would add the Ultimate Suede Leather holster to my first pick of the Techna Clip.
Related Reads: