In 2017 CZ introduced their first striker fired pistol, the CZ P10C.
A mid-sized 9mm pistol with a 15-round magazine capacity designed to compete with the Glock 19, Walther PPQ, and HK VP9, the P10C gained a solid reputation for reliability, impressive ergonomics, and a smooth and light trigger pull.
Late last year, CZ introduced two new pistols in the P10 line up: the P10F and the P10S.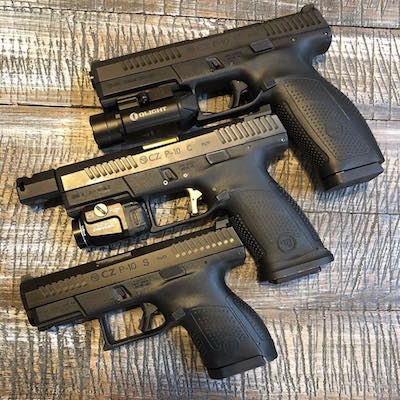 In case, you didn't figure out, the letters stand for:
S – Subcompact
C – Compact
F – Full Size
Clearly, CZ is following the trend Glock set with the 17, 19, and 26 pistols.
The P10F is roughly the same size as a Glock 17 and holds 19+1 rounds of ammunition. The P10S holds 12+1 rounds and is roughly the size of a Glock 26. For all intents and purposes, these are the same guns as the P10C only with longer or shorter slides and frames.
That being said, optics ready variants of the P10F are also available. All three pistols also come with interchangeable back straps and grip panels, swappable magazine releases, and a front night sight.