The Sig P226 is BA. No doubt about it. That's probably why you got one, or are in the market for one. This pistol is a full size 9mm handgun known for its dependability and accuracy.
What is the best holster for the Sig P226? Like every other firearm, you can find a variety of holsters to fit the way you want to carry your Sig.
I have done some research for you and would like to share what I found. My top pick in holsters for the Sig P226 is the Blackhawk SERPA Concealment Holster.
This Blackhawk holster is a great level two retention holster. It allows for easy draw and re-holster, without slowing you down. Blackhawk is a name you can trust in holsters.
Get Great Guns and Ammo Deals!
---
Sig P226
The Sig P226 is a unique line of handguns. There are twenty five different models. They are chambered in 9mm, .40 S&W, and 357 SIG. There are no external safeties and the exposed hammer can be decocked.
History of Sig Sauer
The company was founded to make wagons. After seven years of wagon making, they won a contract with the Swiss government to make 30,000 muzzle loading Prelaz-Burnand rifles. They changed their name to Swiss Industrial Company.
Then in the 1970's they merged with another German company, Sauer and Sohn. They kept the original name of Sig Arms until 2007, when they changed it to Sig Sauer.
"In 1853, Friedrich Peyer im Hof, Heinrich Moser and Conrad Neher began what they thought would become a successful wagon factory above Rhine Falls in Switzerland. Little did they know then, that their company would become one of the world's most renowned manufacturers of small arms."- Sig Sauer Corporate History
How Did The P226 Come To Be?
In the 1980's the military was looking for a new pistol to replace the M1911A1 handguns that had been used since WWl. During this time NATO was standardizing to the 9mm and the powers that were in place, at the time, decided they needed a new gun for the new soldiers.
Sig Sauer wanted to get in on some US government contracts so they redesigned the P220, which they had designed for the German military.
The Beretta 92FS was chosen for the military, but Navy SEALs and police departments around the country went with the Sig P226.
---
Choosing A Holster
Choosing a holster is a personal decision that takes different things into consideration. Things to consider are body type, level of training or experience, and the intended use of the holster. There are a few things that virtually all holsters should do.
Primary Feature
1. Covered Trigger Guard
A covered trigger guard prevents things (including a finger) from entering the trigger area and causing an accidental discharge.
2. Grip Accessibility
You should be able to get a full grip on the handgun while it is in the holster. This enables a quick, smooth draw without fumbling around with grip adjustments.
3. Adequate Retention
The holster must retain the handgun for the activity level of the wearer. Some activities may need more retention. For example, a police officer needs more retention than someone who has a concealed carry permit and sits in a car most of the time.
4. One Handed Draw
Being able to draw with one hand may be critical for situations where your other hand may be occupied. On the other hand, if concealment is necessary you will need a hand to move clothing, etc.
---
Wardrobe
Every holster type is a compromise and what works for one situation may not work for another.  There are different types of holsters for different circumstances. Think of it like shoes.
You wouldn't wear the same pair of shoes to the gym that you wear to the office. Therefore, it is best to have several holster types so you can be prepared to carry in all circumstances.
Gun Belts
A good, strong gun belt is a foundational part of carrying on your hip. Trying to carry a gun, holster, and extra ammo on a regular department store belt will lead to dissatisfaction with the holster.
While a good department store belt will hold your pants up, it will not be able to bear the weight of a gun all day.
Other Wardrobe Thoughts
There are some other wardrobe issues you may want to keep in mind for other carrying options.
1. Shoulder – You will need a jacket to conceal a shoulder harness
2. Pocket – You will need pants with deep enough pockets to hold your holster and gun
3. Ankle – You need pants loose enough to fit your holster under the pant leg
4. IWB – Your waistband will need to be one to two inches larger than you normally wear
---
Material
Another thing to keep in mind, when choosing a holster, is the material it is made of. Holsters are made of leather, kydex, hybrid leather and kydex, and nylon. Once again, there will be compromises for each material.
Leather is soft and forms to your body, but kydex is strong and is precision molded for your gun. Hybrid holsters seem to strike a nice balance between the two. They are usually made with a leather part that fits up against your body nicely and a kydex pocket for your gun to sit in.
---
Top Picks for Sig P226 Holster
Let's talk about the top picks I found for you. Once again, keep in mind what you will be usinf your holster for as we look through these choices.
My top pick is the Blackhawk. This holster features a speed cut design allowing for speed when drawing or re-holstering. Their patented SERPA auto lock release is automatically positioned to facilitate a correct drawing motion.
Features
SERPA auto lock system
Audible click upon re-holstering for safety
Includes belt loop and paddle platform
Level two retention
Pros
Excellent retention
Trigger is covered well
Adjustable cant
Finger placement for release is excellent
Cons
Paddle isn't good for skinny people
Uncomfortable while sitting
Paddle breaks and needs replacement

This holster is durable and comfortable. It uses a unique patented release system. It rotates 360 degrees for every possible application.
Features
Fits P226 with accessory rail (or without)
Protective sight channel
Rotates 360 degrees
Pros
Ideal for full size carry
Easy release
Audible click with re-holstering
Comfortable
Made well
Cons
Right handed only
Bulky for concealed carry
Slight wiggle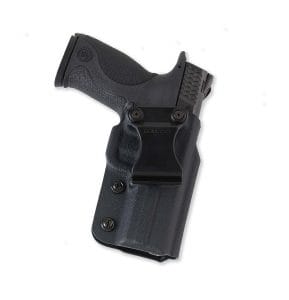 This holster is made from durable kydex. It works good to conceal a full size pistol. It fits belts up to 1 ¾ inches.
Features
Sweat Guard
Fits belts up to 1 ¾ inches
Smooth draw
Pros
Rides close to body
Draws well
Easy to use
Cons
Clip feels spongy
Tight fit
Bulky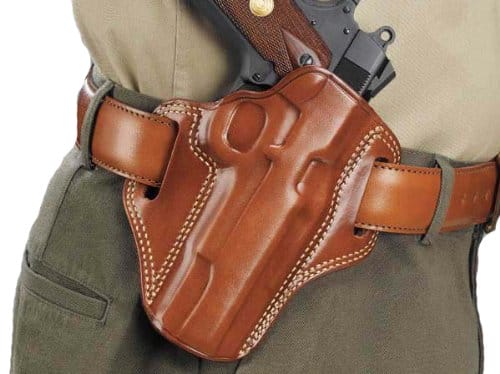 This holster is designed for fast draw and presentation with secure retention. The butt forward cant offers concealment even for large guns.
Features
Made from premium saddle leather
Double stitched seams
Hand molded fit
Fits belts up to 1 ¾ inch
Pros
Quality workmanship
Comfortable
Gun sits close to body
Excellent for concealed carry
Cons
Very tight at first
Break in period needed

This holster is constructed with a two piece design that contours with the body. This allows for more comfort and a narrower profile than a regular pancake holster.
Features
Hand molded
Combat grip accessibility
Double stitched seams
Covers the trigger guard
Pros
High quality product
Good retention
Fits perfectly
Right and left handed models
Cons
Substantial break in period
May wear the finish of the gun

---
Conclusion
While there are quite a few holsters to choose from, the Blackhawk SERPA outshines the others. Blackhawk is a reputable company and they deliver a great product.
This holster allows for smooth draw and easy re-holster, with its speed cut design. It's positioned for a correct drawing motion. They really made a great level two retention holster with this one.
Our Pick
For a good price, you'll get a great holster if you choose the Blackhawk SERPA. You'll get one made for carrying the Sig P226 and if you carry this on the range or on the job, it will give you years of service.
I hope you found some useful information in this review. The journey to finding a good holster is an important one but it doesn't have to be traveled alone.
Related Reads: