The Ruger GP-100 is such a great revolver to shoot, and many others would agree. It is comparable to certain, more expensive brands and will last a long time. Maybe that is why you got it, and of course you are now looking for a holster to go with it.
While such a bulky firearm might not be so easily concealed, it is still a great piece to wear on your hip. There are ways to get around the issue of its bulkiness, but my favorite holster for it is more suited to open carry anyways.
The Bianchi Tan 5Bh Thumbsnap Holster is a quality option for your Ruger. It is sturdy, has good retention, and fits the Ruger GP-100 very nicely. While it isn't an ideal concealed carry option, it does look nice and it does what it needs to.
Before we move on though, I want to go over the advantages and disadvantages of owning a revolver.
Get Great Guns and Ammo Deals!
---
Benefits of a Revolver
There is a constant debate over whether pistols or revolvers are the better option. While I am not here to make up your mind about either side, I will go over the benefits of a revolver since we are already talking about one in this article.
The Test of Time
When you think of a revolver, often times you are going to imagine cowboys and the olden days. It is a nostalgic and stylish option, and they will last you for many years to come. They are something that can be passed down from generation to generation, and all the while they will still shoot great if taken care of.
Reliability
Revolvers are known for being reliable when it comes to their mean time. This meaning that there is less of a chance for mechanical issues while shooting, and will shoot more rounds before it comes to these issues that affect the firearms operation.
If there is a malfunction, such as a failure to fire, all you need to do is pull the trigger again to rotate the cylinder to the next chamber. No wasted time with the fancy maneuvers needed to keep autos going.
They are also reliable when it comes to the variety of types of ammo you can shoot them with. For autoloaders you generally have to test ammunition because they can be picky about the size, weight, and shape of the bullets. It has been said that they should be tested with 200 rounds or so in order to make sure there will not be any malfunction.
With a revolver, you are generally going to have it easier with ammunition, and thus save yourself on time and money, and not have to worry about malfunction as much.
No Magazine
Speaking of ammo, I'm sure we all are aware that revolvers do not use magazines like regular pistols do. Magazines can be a weakness of a pistol, in that they wear, add to the handle length, and ultimately you are in a pinch if you forget them!
Concealability
People will argue that pistols are more concealable than revolvers, but the argument goes the other way. Like I said before, I am not here to convince you of either side. This is what the common opinion is, though, when it comes to revolver supporters.
Without the magazine, a revolver's grip can be shorter and rounded, which allows a more natural form versus the obvious right angled shape of a pistol. Sharp edges draw the eye more, while rounded shapes are softer and do not attract attention as much.
Some people argue that revolvers do not shift as much when concealed as much as a pistol does.
There is also the hammerless snub, which is about as compact as it can get. This firearm will be minimal on the sharp edges and lacks much of the bulk of a lot of other sidearms.
One Size Fits All
Again, with the lack of a magazine, there is not a necessity for a specific grip size. You can find one that will fit any sized hands, simply with the simple change of the grips. There is even the possibility for a gunsmith to make changes to the grip frame in certain situations.
Heavy Trigger
To some, this might be a negative quality, but in certain dangerous and confusing situations it can be a great advantage. When someone is panicked, their finger may instantly jump to the trigger guard, and they may accidentally discharge before they planned or without thinking.
Revolvers have heavy triggers so if you are in a sticky situation like this, there is much less chance for negligent discharge. Please note, though, that the heaviness of the trigger is in no way meant to be depended on as a safety mechanism. It simply adds another additive of safety.
Collectability and Appreciation
Revolvers make pretty collector's items, of course. They are great family pieces to pass on to future generations, make great displays, and hold the chance of rising in value over time. Depending on the quality or if it is a classic gun, the chances are that it will increase in value and become an excellent investment.
.357 Magnum
People forget about the reliability of a .357, which is a very common caliber for revolvers. It is effective whether in self defense or for sport, and it is a versatile option.
---
Cons of a Revolver
Of course, what would an honest and unbiased bit of information be without acknowledging the cons of something argued as better than another?
Not meant for quick reload.
Autos are great for a quicker and easier reloading process. This is one of the top reasons pistol lovers give.
Firepower.
Autos are generally much more powerful when it comes to firepower, and will inflict much more damage.
Easier trigger pull.
While some argue the heavy trigger of a revolver as a plus, many others argue it as a con. The lighter, easier trigger of an auto is smoother and nicer to handle.
There are a lot more points to make in regards to the argument of revolvers versus pistols, but that debate is left up to each individual to resolve on their own. It is an interesting topic to look into, however.
---
Top picks for the Ruger GP-100
Now let's look at some more holsters for the Ruger GP-100. Hopefully you'll see something that catches your eye and fits what you're looking for.
A high ride holster that holds your gun firmly and close to your body for comfort and stability. It's a nice contoured mold and has good retention.
Features
High ride
Steel-reinforced retention snap
Belt loop option
Molded fit
Pros
Snug fit
Comfortable
Looks nice
Cons
Needs breaking in
Belt loop causes gun to ride high on 4.2" models
Doesn't cover rear sights on 4.2" model all the way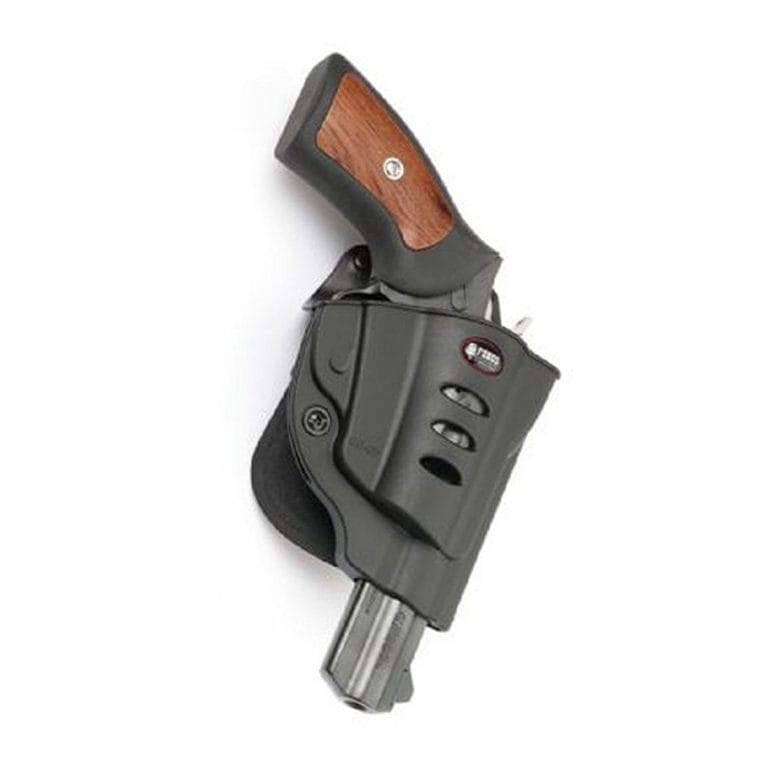 If you like paddle holsters then this is a good choice for you. It requires little maintenance, has a lifetime warranty, and is a simple, one-piece design that still protects your firearm.
Features
Maintained free
Doesn't breathe or sweat
Lifetime warranty
Right handed holster
Steel reinforced rivet
Rubberized paddle
Protective sight channel
Pros
Secure fit to body and firearm
Stays in place
Good retention
Cons
May be too snug
Not a quick draw
Rough edges may need filing
Whether you want to strong side carry or cross draw, this one is a great option. It has a quick release thumb break that allows for fast draw, but still has solid retention.
Features
Two belt loops
Strong side carry or cross draw option
Thumb break
Suede lined
Open muzzle
Custom contoured
Pros
Stays close to body
Good fit
Secure
Cons
Snap may be difficult to close
Not as much of a high rise as advertised
Gun carries too vertical at times
For a simple, inexpensive nylon option, this holster is fantastic and works great for the Ruger GP100.
Features
Nylon material
Mag pouch
Adjustable thumb break
Steel belt clip
Belt loop
Pros
Quick draw
Easy reholstering
Adjustable thumb break is nice
Cons
Slim fit without working shape
Slightly loose on hip
Belt clip might not be secure enough (gun may fall out)
---
Our Top Pick
The Bianchi Tan 5Bh Thumbsnap Holster is definitely my top pick when it comes to finding the right holster for the Ruger GP-100 revolver. It is a stylish option, as well as secure and reliable. You can count on it lasting a long time, and it will ultimately fulfill whatever requirements you might have with your firearm.
Our Pick
Perhaps you favor revolvers, or perhaps you favor pistols. Either way, if you have the Ruger GP-100 then you have a quality firearm. I hope now you have found a quality holster to go along with it. Let us know what you end up choosing, and explore our other articles for more information, reviews, and news.
Related Reads: